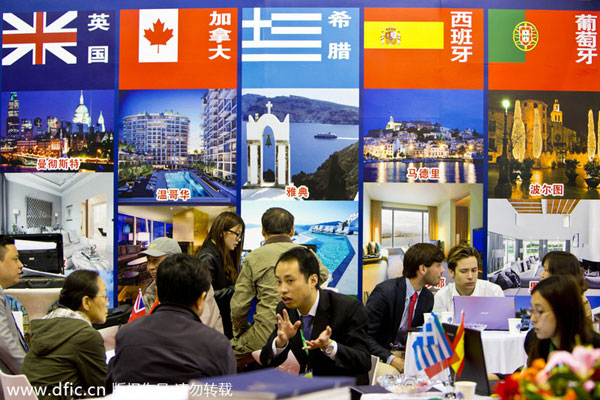 Visitors consult sales representatives at the 2014 Beijing International Property & Investment Expo/Spring, April 10, 2014. [Photo/dfic.cn]
Globalizers hoping to expand R&D, manufacturing operations abroad
Approximately 60 percent of leading Chinese companies plan to move research and development centers and/or production overseas in the next five years, a study by Strategy& (formerly Booz &Co) and the World Economic Forum said on Wednesday.
That figure roughly doubles the number of Chinese companies that are currently sending these functions abroad, according to the study.
In addition, 80 percent or more of these companies plan to establish or expand sales and marketing and/or service operations overseas.
"Today's Chinese globalizers clearly have the ambition and intent to expand not only geographically but also on establishing technologies, manufacturing and R&D capabilities outside China," said Steven Veldhoen, partner for Greater China, Strategy&.
Huang Jianbing, vice-president of Guangxi Liugong Machinery Co Ltd, agreed, saying the company's focus now is brand image and technology.
"It is important for globalizing companies to adopt a holistic approach to recognize their own challenges and implement a full range of management to address them," said Veldhoen.
The United States (at 71 percent) and Southeast Asia (61 percent) were the most commonly cited target areas for Chinese globalizers' future expansion, according to the survey.
Over 40 percent of surveyed companies said they plan to expand in Europe or Latin America, with the Middle East and North Africa, sub-Saharan Africa and Northeast Asia also claiming significant attention.
The joint study was carried out in a series of comprehensive interviews and surveys of 125 Chinese companies conducted over the past 12 months. Most of the companies surveyed are regarded as having outpaced their peers in establishing a global presence.