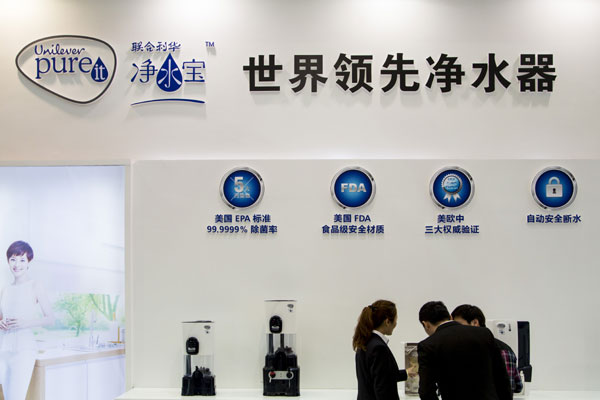 Unilever presents water purification technology at an exhibition in Shanghai. The multinational Anglo-Dutch company acquired the Qinyuan Group, a leading Chinese water purification business, in March. CHINA DAILY
Unilever CEO believes passion is key driver to success in leadership
Paul Polman says he cannot remember exactly how many times he has been to China since Jan 1, 2009, when he became chief executive officer of the multinational Anglo-Dutch company Unilever. But he has a clear picture of how to thrive and continue to thrive in the fast-moving consumer goods market in the world's second-largest economy, despite the slowdown in economic growth and increasingly fierce competition.
The veteran of the sector says he plays big in order to win. Acquiring the Qinyuan Group, a leading Chinese water purification business, in March is one of his strategies to become top dog the water purification market in China, an area expanding at a fast pace.
"It was a strategic investment to acquire a majority stake in Qinyuan - and it was Unilever's largest investment in China in the past nearly two decades," said Polman.
The deal may more than double the size of Unilever's water purification business and will bring together complementary technologies from Pureit, Unilever's water purification brand, and Qinyuan, said Polman.
"We will leverage Qinyuan's local marketing insight, manufacturing and distribution strength - all under the Unilever umbrella," said Polman.
Despite Unilever's plan to cut jobs and reduce personal care products by the end of 2014, China is still one of Unilever's growth engines.
In China, Unilever has no plan to either reduce the headcount or product lines because it is still experiencing rapidly expanding demand in the country. Instead, the company is expanding production capacity with a new plant under construction and due for completion soon.
Unilever has also been hiring and increasing the number of positions in various departments including sales and research and development. In lower-tier cities the company is planning to expand distribution channels and promote its most popular products to non-urban residents.
Polman says leading a fast-moving consumer goods company through its various ups and downs requires not only experience but also a broad vision - to think big and care big.
The 60-year-old started his FMCG career in 1979 with Procter & Gamble Co. In 2001, he became US-based P&G's group president, Europe.
Polman was appointed as chief financial officer at Nestle SA in 2006 and was named by Investor Magazine as CFO of the Year in 2007. In 2008 he became executive vice-president and Americas zone director of Nestle. In 2008 Polman was appointed to be executive director to the boards of Unilever Plc and Unilever NV, the first time an external candidate was chosen for the role.