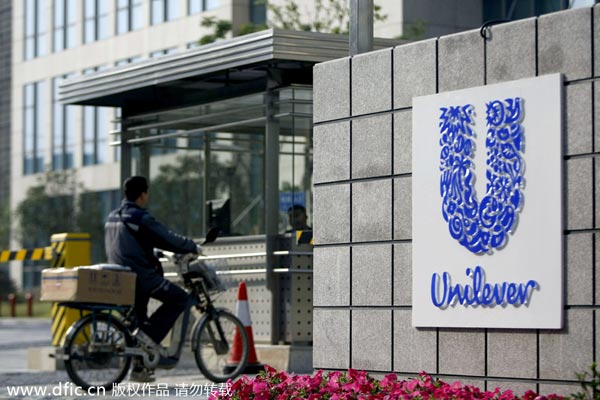 A cyclist passes by the logo of Unilever at the Unilever Research and Development Center in Shanghai. [File photo/dfic.cn]
Major consumer goods supplier Unilever announced in Shanghai on Sunday that it has acquired a majority stake in Qinyuan Group, one of China's largest water purification businesses.
The amount of the deal was undisclosed, but it is believed to be Unilever's biggest acquisition in China for more than a decade. Ningbo-based supplier Qinyuan generated sales of some 1.2 billion yuan ($1.96 billion) for the 12-month period ending December 31, 2013.
Unilever's CEO Paul Polman said it is a strategic investment to acquire a majority stake in Qinyuan.
Unilever began building a global water purification business with Pureit, a water purification device already in use in parts of South Asia, Southeast Asia, Latin America and Africa.
"This deal will more than double the size of our water purification business and will bring together complementary technology from Pureit and Qinyuan and leverage Qinyuan's local marketing insight, manufacturing and distribution strength – all under the Unilever umbrella," said Polman.
According to the company, the Unilever-Pureit purifiers and the current Qinyuan product range offer different and complementary performance and price points and will enable the combined business to offer a complete range of products.
Ye Jianrong, founder of Qinyuan will continue as its chief executive officer.
"We think the deal brings together very relevant innovation, technology, design and manufacturing capabilities which can enable China to become an important hub in the development of the global Unilever-Pureit business," said Ye.
The water purification market has been growing rapidly in China, with increases of more than 20 percent over the last three years, according to Unilever.