Unilever consumed with ambitions for growth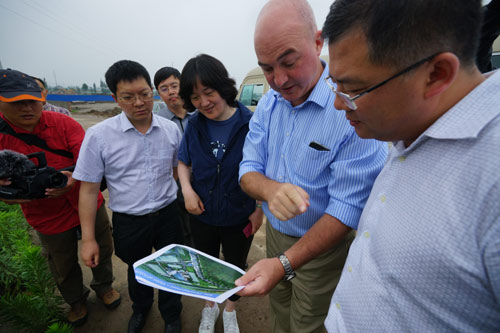 Alan Jope (second from right), president of North Asia of Unilever Plc, checks the plans for the company's new operation together with Liang Lei, head of Pengshan county in Sichuan province (first from right) in Pengshan. [Provided to China Daily]
Consumer goods giant Unilever PLC is aiming to expand its China business by five times in the next decade.
"We are committed to building and sustaining a successful business in China and multiplying our business five times in 10 years," said Alan Jope, president of North Asia of Unilever Plc.
According to the Anglo-Dutch company's first-quarter report, 57 percent of turnover comes from emerging markets such as China, and those markets have delivered double-digit growth for eight successive quarters.
In the first quarter, Unilever achieved continued sales growth in Asia, particularly in China. The company's distribution network now covers most of the Chinese mainland.
Following the success of the company's first two manufacturing centers in Hefei and Tianjin, Unilever is in the process of establishing its third manufacturing plant in Meishan's Pengshan county, Sichuan province.
"Sichuan has an excellent strategic location and great market potential. As the host city for the Fortune Global Forum, the city of Chengdu has seen tremendous development in recent years, and it certainly has attracted global attention," Jope said.
Given the injection of direct investment and the potential for more jobs, Wang Shuhuai, deputy mayor of Meishan, said cooperation with the company will benefit the local government, local staff and local customers as the company thrives.