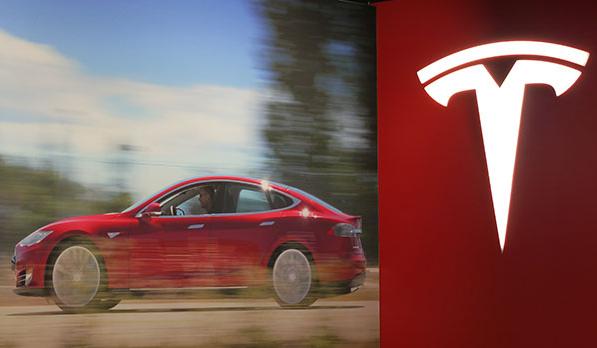 The Tesla logo is pictured on Feb 5, 2014 in its first Chinese mainland show room in Beijing. [Hao Yan / chinadaily.com.cn]
Executives from United States electric carmaker Tesla Motor Inc will visit Sinopec Group next week to discuss potential cooperation to establish vehicle-charging facilities, an insider with the Chinese company told China Daily on Tuesday.
Talks will center on building charging units around Sinopec's nationwide service-station network.
Tesla denied plans for a meeting in Beijing, The Wall Street Journal reported on Tuesday, citing Simon Sproule, vice-president for marketing and communications. Tesla plans its first customer deliveries in Beijing or Shanghai next week, he said, according to the report.
No one at Tesla China was available by phone when contacted by China Daily.
Electric vehicle
s are becoming more popular in China as auto demand increases and the government attempts to cut car emissions.
Tesla CEO Elon Musk has said China could potentially be the company's biggest market with sales equaling those in the US by next year. Tesla has reportedly been in talks with the State Grid Corp of China, the country's largest utility company, about cooperation to build charging stations. The State Grid has given no response.
Sinopec owns more than 30,000 gas stations in the country.
Cities including Tianjin, Shanghai and Chongqing have built charging stations, while construction is underway in Hebei, Fujian and Guangdong provinces.
Sinopec established on March 18 a wholly owned subsidiary - Sinopec EasyJoy Sales Co - in Beijing to focus on non-oil retailing businesses and auto services.
The Chinese government encourages wider use of clean-energy cars to improve air quality in cities. In response, many local auto producers are developing electric vehicles.
In January, Premier Li Keqiang emphasized the importance of "green" cars when visiting BYD Co Ltd's factory in Xi'an, Shaanxi province.
The government had targeted a tenfold increase in the number of electric vehicles on the road by 2015, but there is a lack of framework in major cities including Beijing to ensure that happens.
Brilliance BMW Automotive Ltd, the German automaker's local joint venture, officially began leasing its self-developed electric model 1E on Tuesday. Daily rental for the car is 400 yuan ($64), and the monthly fee can fall to 7,400 yuan based on a three-year contract.
Xu Heyi, chairman of Beijing Automotive Group Co Ltd, told the 2014 Boao Forum for Asia last week that the company is cooperating with US companies in Silicon Valley to develop an electric vehicle, expected to be on sale by the end of 2015.