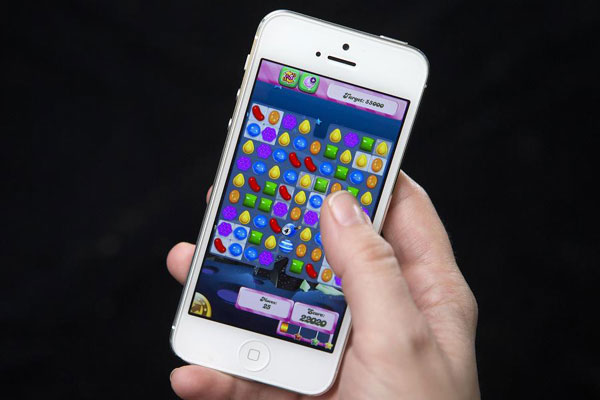 A woman poses for a photo illustration with an iPhone as she plays Candy Crush in New York, Feb 18, 2014. [Photo/Agencies]
SHANGHAI - Chinese tech giant Tencent Holdings Ltd will launch a Chinese version of King Digital Entertainment Plc's explosively popular "Candy Crush Saga" game in China, as the UK-based mobile games maker looks to woo new users to support flagging sales in the United States and Europe.
The web-based game, which involves lining up colourful candies, will roll out through Tencent's Mobile QQ and WeChat platforms. Weixin, or WeChat, had 225 million active users in January, according to Beijing-based consultancy iResearch.
"Tencent has the largest mobile social network in China," King Digital Chief Executive Riccardo Zacconi said in a statement, adding that he hoped the tie-up would make Candy Crush "as popular in China as in the rest of the world".
Candy Crush, which brought in about $493 million in the last three months of 2013 alone, has topped sales charts around the world and was one of the most downloaded apps in 2013, according to King Digital's IPO registration filing this year.
The tie-up will also help Tencent, China's biggest listed Internet company, attract users to its wide array of online and mobile offerings, ranging from social media platforms to online finance.
Tencent is locked in a fierce battle for online supremacy in China with IPO-bound rival Alibaba Group Holding.
Tencent has also been making forays into the online game market, snapping up a stake of 28 percent in South Korean mobile gaming firm CJ Games for $500 million in March.
Candy Crush, a free game that makes money by selling virtual items to gamers, has suffered a fall from grace. Its gross bookings have started to dwindle, significant because it accounts for close to 80 percent of King Digital's total.
Shares in King Digital fell as much as 16 percent when they debuted in late March, underscoring investor concern about the company's reliance on the game and wider scepticism over a notoriously fickle and volatile market.
The New York listing was the largest US tech initial public offering since gaming company Zynga Inc went public in 2011.
But with around 93 million daily average users last year, the game could help lure China's more than 500 million mobile internet users to Tencent's platforms. Tencent is more than one-third owned by South African publishers Naspers Ltd.
The collaboration "will combine King's enjoyable mobile gaming experience and Tencent's strong game publishing and operation capabilities in China," Tencent Senior Vice President Steven Ma said in the statement.
"We are looking forward to bringing great moments of fun to Chinese users soon."