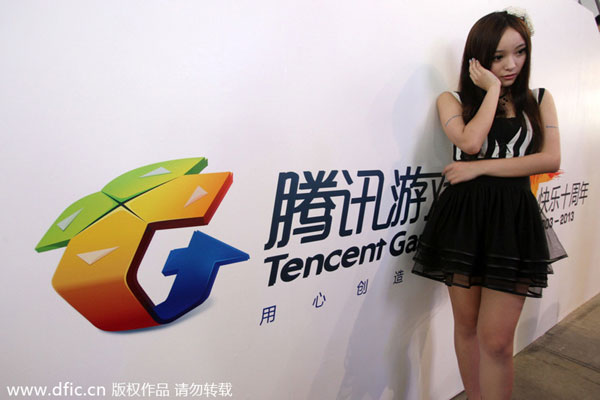 A showgirl poses at the stand of Tencent Games during the 11th China Digital Entertainment Expo and Conference, known as ChinaJoy 2013, in Shanghai, 25 July 25, 2013. [Photo/icpress]
Tencent Holdings Ltd, China's largest Internet company by market capitalization, stepped up its commitment in mobile gaming by announcing its plan to buy 28 percent of stake in South Korea's CJ Games Corp at $500 million on Wednesday.
The investment is expected to make Shenzhen-based Tencent the third-largest shareholder of CJ Games, a leading online and mobile games developer and publisher in South Korea.
Through the strategic partnership with Tencent, CJ Games is expected to empower its growth in the global mobile games market.
As part of the restructuring, CJ Games will acquire and merge Netmarble, a game distribution division of its parent firm CJ E&M, to maximize the synergies among distribution platforms and development via the creation of a consolidated corporation tentatively named CJ Netmarble.
Martin Lau, president of Tencent, said in a statement that the partnership combines CJ Games unrivalled game development skills and mobile game line-up together with Tencent's strong game publishing and operation capabilities in China. "We look forward to collaborating with CJ Games to bring more high quality and enjoyable mobile gaming experience to our user base," Lau said.
The move is in line with Tencent's extensive history in gaming industry in China. Online games contributed to nearly half of Tencent's revenue of 16.97 billion yuan ($2.73 billion) the fourth quarter of 2013, according to the company's financial report.
The company also achieved great performance in China's emerging but rapidly growing mobile gaming market by launching game centers on its flagship mobile QQ and WeChat applications.
Riding on the extensive user reach and social network effect of the two apps, mobile games generated revenue of more than 600 million yuan in the fourth quarter of 2014, according to Tencent.