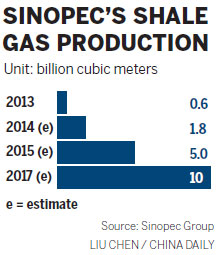 China Petroleum and Chemical Corp (Sinopec) said on Monday that it had achieved "significant breakthroughs" in the exploration and development of a shale gas block in Chongqing, a municipality in southwestern China.
Those advances will help China realize commercial development of shale gas sooner than expected, it said.
The Fuling field in the southwestern municipality, the nation's first large-scale shale gas field, has reserves of 2.1 trillion cubic meters, the company said.
On Sunday, Sinopec - the nation's largest oil refiner - announced its 2013 results. Net profit was up 3.5 percent to 66.13 billion yuan ($10.76 billion).
Chairman Fu Chengyu said Sinopec's two major tasks this year will be business restructuring and upstream shale gas exploration.
"The company will enhance exploration and development efforts for shale gas at Fuling to spur the swift development of China's shale gas industry," he said.
According to the statement, the company expects that the annual capacity of the Fuling field will reach 1.8 billion cu m by the end of 2014 and 5 billion cu m by 2015 .
Sinopec aims to have annual production capacity of 10 billion cu m by 2017, equivalent to 10 million metric tons of crude oil.
Under the 12th Five-Year Plan (2011-15) for the shale gas industry, China aims to achieve total output of 6.5 billion cu m of shale gas by 2015, which means that Sinopec might contribute 77 percent of the target output.
"The discovery and development of the Fuling shale gas field symbolizes a much earlier entry into large-scale commercial development, which would otherwise have taken 10 years, under the original plan," said Fu.
Successes at Fuling "give us much confidence in extending them to other projects around the nation".
"The upstream business isn't Sinopec's strength, while the downstream units - including refining, oil product retailing and gasoline station operations - require hard work," said Liao Na, vice-president of Shanghai-based energy consultancy ICIS-C1 Energy.
Sinopec said last month that it would allow private investors to own as much as 30 percent of its marketing and distribution business, which includes more than 30,000 gasoline stations.
The announcement has been viewed as a big step in the oil giant's opening-up process.
"It is wise for Sinopec to scale back its downstream involvement by introducing outside investors and focusing more on the upstream sector, which can yield more profit," said Liao.
She said as the overcapacity problem worsens in the refined products market, competition will intensify.