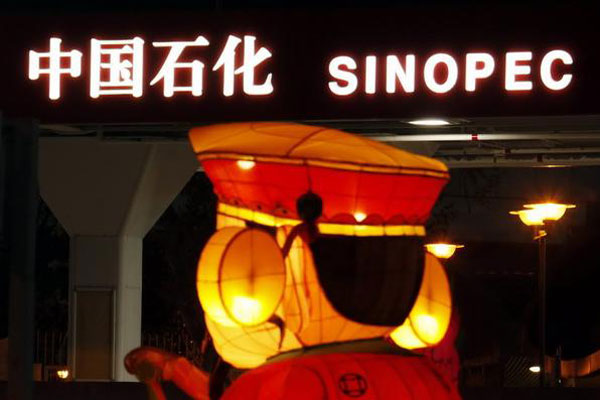 File picture shows a Chinese New Year lantern installation on display outside a Sinopec gas station in Hong Kong. [Photo / Agencies] 
Shares of China Petroleum and Chemical Corp surged by 10 percent on the Shanghai Stock Exchange, the daily maximum, and 9.6 percent on the Hong Kong Exchanges and Clearing Ltd in the morning session, as investors cheered a plan to seek private investments for its marketing arm.
Its share price went up to 5.17 yuan on the Shanghai Stock Exchange after the morning trade.
The last time Sinopec's shares rose to the daily limit was 2009, when its shares rose to 9.44 yuan on July 22.
It opened up to 30 percent of its oil retail business sector, including more than 30,000 fuel stations, pipelines and storage, to private investors, in what is being regarded as a big step toward State-owned enterprises reform.
The company, also known as Sinopec, announced on Wednesday that the board had approved the plan to introduce social and private capital for the restructuring of the company's business.
"Introducing private investors is helpful in accelerating the company's specialization processes. Under the supervision of both the investors and authorities, the company can explore new business models and raise market operation levels," a Sinopec statement noted.
Sinopec is the first of the three big State-owned oil companies - the others being
PetroChina
Co and China National Offshore Oil Corp - to introduce private capital into its sales business since a key reform meeting promised to actively develop a diversified ownership economy.
During the Third Plenum of the 18th Communist Party of China Central Committee in November, the central government unveiled its biggest package of reforms since the 1990s, including encouraging more private investment in State-controlled industries.
"Oil retail has been a more stable and healthier business unit compared with refining for Sinopec, which means it is a big cheese," said Liao Na, vice-president of Shanghai-based energy consultancy ICIS-C1 Energy. "Even 10 to 20 percent shares of the oil retail unit of the company are not small for investors."
She said the private investors will be both active and cautious in investment decision-making because there are no details of provided assets or the model for investment.
"The large and medium-sized private companies and the ones which have already established cooperation with Sinopec have a greater chance of taking a piece of the pie," she said.
Sinopec's oil retail business has high profitability and offers big investment returns with a complete distribution network.
By the end of 2013, the oil retail unit had 30,532 fuel stations, total oil products pipelines of more than 10,000 kilometers and overall storage capacity of 15 million cubic meters.
Han Xiaoping, chief information officer of China Energy Net Consulting Co Ltd, said it is an initial step in a government-driven reform of State-owned enterprises.
The venture with Sinopec, Asia's largest refiner, and domestic private companies will raise industrial efficiency, said Han. "Sinopec has advantages in the upstream refining business. It can establish partnerships with private companies where its refineries are located to save logistics costs," he said.
Lin Boqiang, director of the China Center for Energy Economic Research at Xiamen University, said: "It's a very important step and big progress, but how it will affect the industry and market still remains uncertain."
He said private investors will not be able to become the owner or decision-maker of the business unit because of a 30 percent share limit, which will lead to some hesitation among investors.