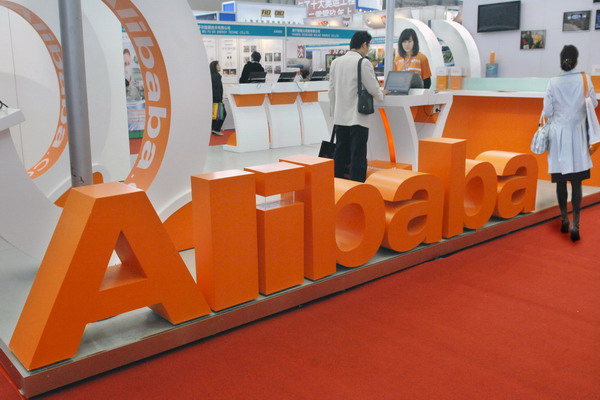 Alibaba Group Holding Ltd's exhibit at a trade show in Shanghai. Provided to China Daily 
Hong Kong-listed Intime Retail to form joint venture with mainland Internet giant
Alibaba Group Holding Ltd will form a joint venture with a Chinese department store operator in its latest push to develop its online-to-offline business.
According to a joint statement by the two firms on Monday, the Internet titan, with interests that span from online retail and wholesale to payment and digital mapping, is to make a strategic investment in the Hong Kong-listed Intime Retail (Group) Co Ltd, a company that owns department stores and commercial real estate assets in the Chinese mainland.
The overall HK$5.37 billion ($692.25 million) injection will give Alibaba about a 9.9 percent equity stake in Intime and the retailer's convertible bonds worth HK$3.71 billion. Once the bonds are converted into shares in three years, Alibaba will have no less than 25 percent of Intime's stake.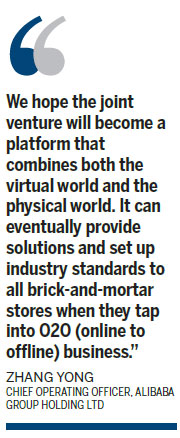 The deal could assist Alibaba to extend its online success to Intime's 36 department stores across China, as the Internet behemoth strives to popularize smartphone-enabled shopping backed by its indigenous payment tool.
Zhang Yong, Alibaba's chief operating officer, said the partnership aims to construct an open infrastructure that integrates digital commerce with brick-and-mortar businesses.
"We hope the joint venture will become a platform that combines both the virtual world and the physical world. It can eventually provide solutions and set up industry standards to all brick-and-mortar stores when they tap into O2O (online to offline) business," said Zhang in a news conference in Beijing on Monday.
He added that Alibaba and Intime will share the information about their membership and stock records as well as cooperate on payment and marketing.
Intime Chairman Shen Guojun believes the tie-up will help his firm "better embrace digital change" and pinpoint people's needs by using big data and cloud computing.
Big data, an emerging catchphrase describing the huge processing capacity of data by volume, speed and variability, is being applied on the commercial front to track shopping behavior and make adaptations to people's unique requirements.
Zhang of Alibaba echoed that view, saying the company's Taobao e-commerce platform has about 400 million registered users and Alipay, the company's third payment arm, has about 600 million registered users.
"We have a large database regarding the shopping habits and preferences of our customers. Through taking advantage of the database, the joint venture will not only be an upgrade of Intime but the creation of a new business," he said.
Alibaba-Intime collaboration has an impressive track record. A highlight was last year's Nov 11 shopping discount festival, when Alibaba allowed its Tmall users to place orders online while picking their orders up at Intime so they didn't have to wait for delivery. The cooperation helped Intime increase its sales by four times on that particular day compared with sales from the previous year.
The duo also worked closely on the mobile platform, with Intime allowing the Alipay mobile application to be adopted as a payment option at store checkout registers.
The O2O trend is likely to continue as demand for seamless shopping, logistics and payment surges rapidly, said Gu Zhaozhi, marketing director of New World Department Store China Ltd.
"It is a more rational choice for us to team up with Internet heavyweights to improve the online shopping experience than building an IT infrastructure on our own from scratch," Gu told China Daily.
New World Department works with both Alibaba and its archrival Tencent Holdings Ltd in O2O integration and mobile payment. In November it signed a half-year exclusive partnership contract with Tencent that allows WeChat-empowered payment.
Alibaba is aggressively pushing ahead with O2O to grab a share in the fairly open mobile payment market, said Li Zhi, principal analyst for IT consultancy Analysys International.
"To up the ante, Alibaba has to deepen its collaboration with physical stores and smooth things over by getting a bigger say," she said.