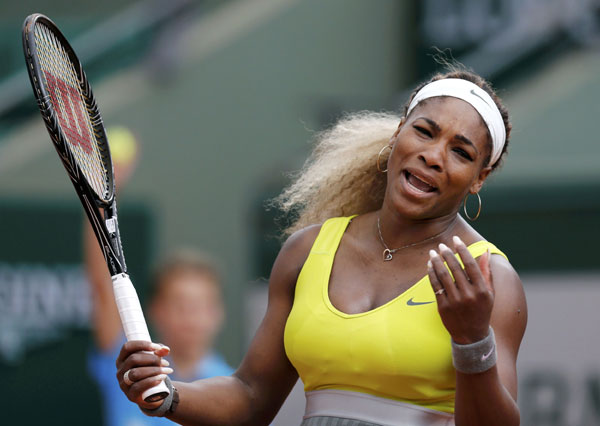 Serena Williams of the US reacts during her women's singles match against Garbine Muguruza of Spain at the French Open tennis tournament at the Roland Garros stadium in Paris May 28, 2014.
[Photo/Agencies]
PARIS - Wind was whipping, rain was falling, and thick gray clouds overhead were foreboding as Serena Williams double-faulted, then raised her hands in despair and wailed, "I can't serve!"
As if to prove the point, Williams double-faulted again moments later, before pushing a routine backhand wide to get broken at love.
Truth is, the French Open's defending champion couldn't do much properly on this particular afternoon, absorbing the most lopsided loss of her 288-match Grand Slam career. Unable to figure out how to get herself going or counter her unheralded opponent's aggressive game, Williams was beaten 6-2, 6-2 Wednesday by 35th-ranked Garbine Muguruza of Spain in the second round.
"Nothing really worked," said Williams, whose older sister Venus also lost. "I don't know anything that actually worked."
Ever since last week's draw, there was talk about a possible all-Williams match in the third round, which would have been their first Grand Slam meeting since the 2009 Wimbledon final. So much for that: Exactly one minute before Serena's match began on Court Suzanne Lenglen, the 29th-seeded Venus' 2-6, 6-3, 6-4 defeat against 56th-ranked Anna Schmiedlova of Slovakia wrapped up in the main stadium.
"I felt like this was a match that I was most likely going to win," Venus said. "I don't know how Serena felt, but I'm sure she feels like that every time she goes on the court. So I think our expectation was to play in the next round."
Instead of the 25th Williams vs. Williams encounter on tour, it'll be the 20-year-old Muguruza vs. 19-year-old Schmiedlova.
Serena's exit came a day after a loss by No. 2 Li Na, the first time in the Open era, which began in 1968, that the top two women were gone before the third round at any major tournament.
"Nobody's safe," summed up Patrick Mouratoglou, the coach who began working with Serena after the 2012 French Open.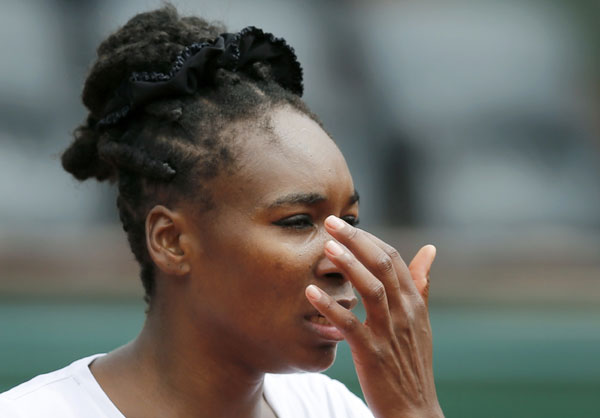 Venus Williams of the U.S. looks on during a women's singles match against Anna Schmiedlova of Slovakia at the French Open tennis tournament at the Roland Garros stadium in Paris May 28, 2014.
[Photo/Agencies]
"Usually when she's in trouble, she always finds a way," Mouratoglou said. "But she's a human being, so today she couldn't."
The biggest beneficiary might be Maria Sharapova, who won the 2012 French Open, lost to Serena in last year's final and potentially faced a quarterfinal against the American this time. Sharapova beat 42nd-ranked Tsvetana Pironkova 7-5, 6-2 in a drizzle.
Alize Cornet of France, seeded 20th, was surprised 6-4, 4-6, 6-4 by 18-year-old Taylor Townsend, an American wild-card entry ranked 205th and making her Grand Slam debut. On the men's side, No. 15 Mikhail Youzhny and No. 20 Alexandr Dolgopolov were sent home, while No. 2 Novak Djokovic, No. 4 Roger Federer and No. 8 Milos Raonic won in straight sets.
If an early stumble by seven-time major champion Venus is no longer big news - a month shy of 34, and slowed by an energy-sapping autoimmune disease, she's lost in the first or second round at eight of her past nine Slams _ Serena's departure was shocking for many reasons.
She owns 17 major titles, including two in Paris; Muguruza was playing in her 13th career Slam match. Serena was 54-2 on clay over the past three seasons; Muguruza was 1-1 at the French Open until this week.
"I was like, 'Oh, my God, I'm winning,'" Muguruza said, noting that she grew up watching Serena on TV.
"Since I was a child, I thought, 'Oh, I want to play against Serena on center court.' And today was the day," Muguruza said. "And I think I did very good."
Sure did.
Most striking of all was the brevity, 64 minutes.
Serena never before failed to win at least five games in a match at a major, but Muguruza regularly pounded serves topping 100 mph (160 kph) and held her own during baseline rallies. Serena had 29 unforced errors and only eight winners.
"She played really smart," Serena said. "I didn't adapt."
So she'll remain one major singles trophy shy of Chris Evert and Martina Navratilova, who each won 18.
And make no mistake - it's the majors that matter most to Serena, who lost in the fourth round at the Australian Open in January.
She's 24-4 with a tour-high four titles in 2014, but when asked to sum up her season, she said: "I haven't gotten past the fourth round of a Grand Slam this year. I have a couple words to describe it, but I think that would be really inappropriate, so I'm going to leave it at that. Thank you."
With that, she left her news conference. And the tournament.