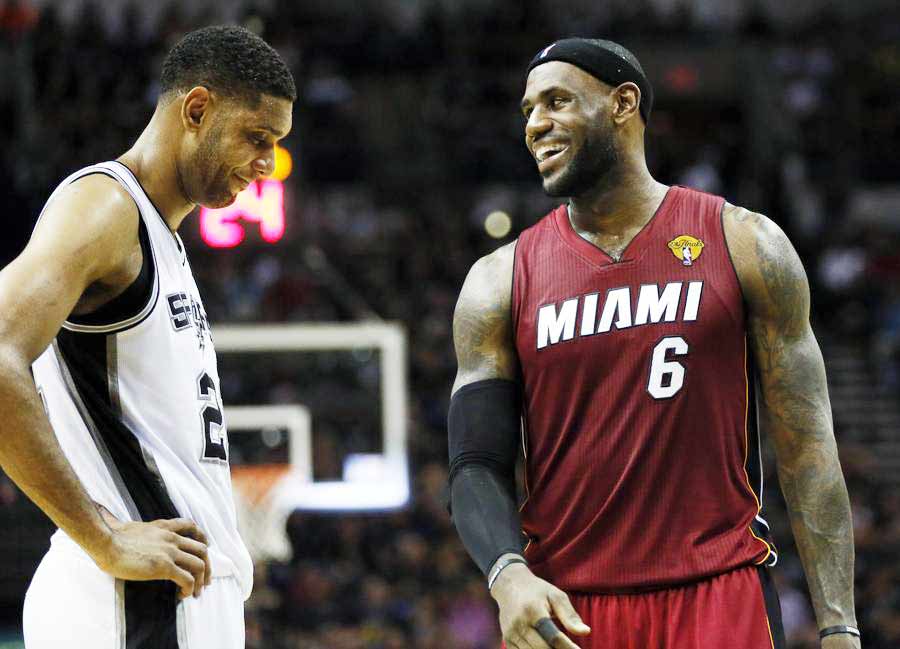 Miami Heat forward LeBron James (6) talks to San Antonio Spurs forward Tim Duncan (21) during the second quarter in game one of the 2014 NBA Finals at AT&T Center, San Antonio, June 5, 2014. [Photo/Agencies]
SAN ANTONIO - San Antonio Spurs beat the Miami Heat 110-95 on Thursday in Game 1 of the NBA Finals and beat the sweltering heat inside an AT&T Center that suffered an air conditioning failure.
The extreme temperatures contributed to LeBron James going down with cramp in the closing minutes, keeping him out of the game as San Antontio pulled away late.
Tim Duncan had 21 points and 10 rebounds, while Manu Ginobili had 16 points and 11 assists, and Tony Parker added 19 points and eight assists for the Spurs, who shot 59 percent and improved to 6 for 6 in the opening game of NBA Finals series.
James finished with 25 points but played only 33 minutes, and Miami was outscored 36-17 in the fourth quarter.
Dwyane Wade scored 19 points and Chris Bosh had 18 for the Heat, who wilted in temperatures that soared past 32 degrees (90F) in the second half.
"It was tough on both teams," Spurs coach Gregg Popovich said. "They were pretty dead. We tried to get guys in and out. ... It was really hot out there."
James, who had cramping issues two years ago in the finals, had to ask for a break in the fourth quarter and was getting treatment during a 15-4 Spurs run that turned around the game.
He came back in and made a basket that cut it to two points with about 4 minutes left, but immediately put his hand up to signal he was finished. He lingered at the baseline and eventually had to be carried to the bench.
Danny Green followed with 3-pointer to trigger what became a 16-3 run to end the game.
"It felt like a punch in the gut when you see your leader limping to bench like that. But we still had a chance after that," Heat coach Erik Spoelstra said.
The Spurs said there was an electrical failure for the power that runs the air conditioning system. They apologized but also seemed to poke fun of it, playing songs with "hot" in the lyrics.
Miami is the first team since Boston in 1984-87 to get to four straight finals. They are well-rested after a relatively easy roll through the Eastern Conference playoffs, a key to keeping Wade fit entering the finals.
But they could not have foreseen the loss of James, the MVP of the series last year when the Heat rallied from five points down in the final half-minute of regulation to beat the Spurs in Game 6 in overtime, then won a Game 7 that was close the whole way for their second straight championship.
This rematch was widely anticipated and was close almost throughout. The Heat led 86-79 after Bosh's four-point play with 9:38 remaining in the game, but it was all San Antonio from there.
The Spurs ended up extending their NBA-record straight to eight straight home playoff wins by 15 or more points.
Bosh, scoreless in Game 7 last year, scored Miami's first five points in the Heat's 7-2 start. But Ginobili came off the bench firing, making consecutive 3-pointers for an 18-13 lead.
Wade and James combined for six straight points before Ginobili made another 3, and Patty Mills added one to close the first-quarter scoring and give the Spurs a 26-20 advantage.
The Spurs committed nine turnovers while managing only 20 points in the third quarter, and Miami led 78-74 heading to the fourth.
Notes: James joined Michael Jordan and Kobe Bryant as the only players with 4,000 points and 1,000 assists in the post-season. ... Ray Allen moved past Bryant and Derek Fisher into second place on the career list with 49 3-pointers in the NBA Finals. Robert Horry, a former Spurs forward, is the leader with 56.