Veteran officer 18th senior official investigated this year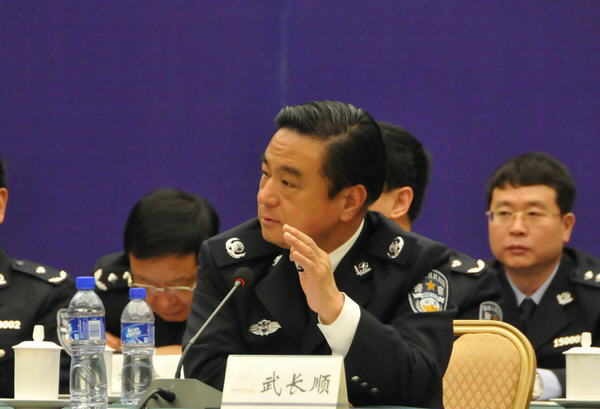 Wu Changshun, chief of the Tianjin Municipal Public Security Bureau. [File photo / Xinhua]
The police chief in Tianjin municipality is being investigated for serious violations of Party discipline and laws, making him the city's third police chief to be investigated in eight years.
Wu Changshun, vice-chairman of the Tianjin Municipal Committee of the Chinese People's Political Consultative Conference and director of the city's public security bureau, became the 18th ministerial-level official to be placed under investigation this year, according to the Central Commission for Discipline Inspection of the Communist Party of China on Sunday.
The 60-year-old is a 44-year veteran of the city's police force and began his career in law enforcement as a traffic officer. He became head of the police traffic administration in 2003 before his promotion to Tianjin police chief later that year.
Wu is the latest senior official to be exposed by the Communist Party of China's fight against corruption. Since the new Party leadership, led by General-Secretary Xi Jinping, was formed in 2012, 36 ministerial-level officials have been charged with corruption and placed under investigation.
CCDI, the chief anti-corruption force, has sent out inspection teams to provincial regions, ministries and universities to discipline local organizations and officials. On July 9, after a team carried out its inspections of Tianjin, it informed the city leadership that it had received tips about official corruption and had passed its findings to disciplinary organizations.
Wu Changshun's last appearance in public records was on July 14.
Song Pingshun, Wu's predecessor as police chief who was also the chairman of the Tianjin Municipal Committee of the Chinese People's Political Consultative Conference in 2003, committed suicide in 2007 after authorities indicted him on charges of corruption.
Song allegedly had a mistress and used his power to provide vast amounts of money to the woman. He was expelled from the Party.
In 2006, Li Baojin, former deputy police chief of Tianjin and then the city's chief prosecutor, was charged with taking bribes and misappropriating public funds. He received a death sentence with a two-year reprieve.
baowanxian@chinadaily.com.cn