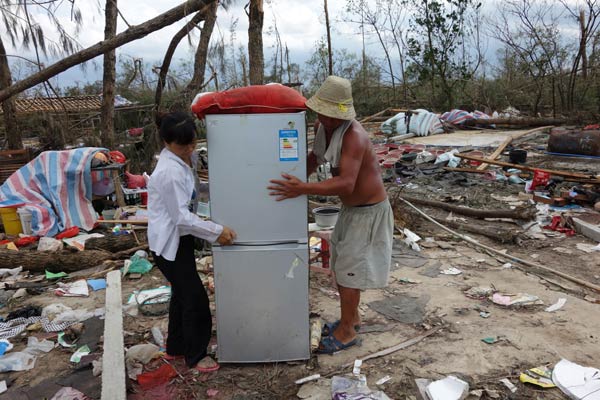 A couple recycles valuable belongings at their chicken farm after the typhoon in Wenchang, Hainan province, on Tuesday. Huang Yiming / China Daily
Relief efforts are still underway after Typhoon Rammasun battered the coast of southern China, with the death roll increasing to 46 and millions of people affected, according to local civil affairs authorities in several provinces.
Rammasun, the strongest typhoon to hit southern China in four decades, brought gales, downpours and floods to a number of southern provinces, wreaking havoc for more than 9 million people in the provinces of Hainan, Guangdong and Yunnan and in the Guangxi Zhuang autonomous region.
Thirty deaths were reported in Hainan province, nine in Guangxi and 18 in neighboring Yunnan, according to tallies based on central and local government figures.
More than 800,000 people have been resettled and more than 240,000 are in urgent need of basic necessities, authorities said.
According to the Hainan provincial civil affairs authorities, more than 1,000 boxes of food, including cakes, bread and biscuits, have been sent to Wenchang, the city where the typhoon made landfall on July 18.
The authorities also set up an investigation team to probe a moldy bread case, after a netizen posted a blog on Monday claiming that more than 200 villagers of Wenchang received two boxes each of bad bread from the local government.
Miao Jianzhong, head of the Hainan provincial civil affairs authorities, said the case was "terribly painful".
He said those involved would be punished and the results of the investigation would be made public.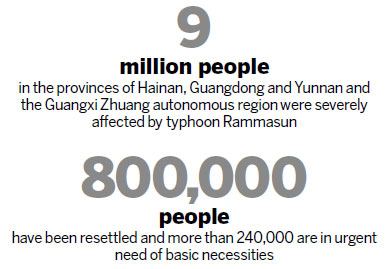 The authorities said the storm left more than 1.13 million households without electricity. After days of repair work, power in the main area of the provincial capital of Haikou and in Wenchang was restored, but some outlying areas and towns of the cities were still without power.
Yang Chunhui, a chicken farmer from Huxin village in Wenchang, said the typhoon caused the deaths of more than 10,000 chickens that he raised, an economic loss of about 200,000 yuan ($32,000).
About 20 other nearby farmers have suffered similar losses, Yang said.
Now living in a makeshift room at a local middle school, Yang said he had no idea how long he will have to stay.
"I eat instant noodles everyday, and currently some villages have no power supply. Rice and cooking oil are badly needed for many villagers," Yang said.
Direct economic losses have been estimated at 9.3 billion yuan in the Guangxi Zhuang autonomous region, according to the region's civil affairs authorities.
The typhoon dealt a hard blow to local agriculture. In Tanluo, known as China's Town of Bananas, more than 1 million banana trees were destroyed by the storm.
On Weizhou island, toppled trees were common on the streets, and many residents were still busy repairing house roofs after tiles had fallen due to the typhoon's strong winds.
Residents said they hoped that more construction material, such as tiles and cement, would be provided soon by the government in case of another round of heavy rain.