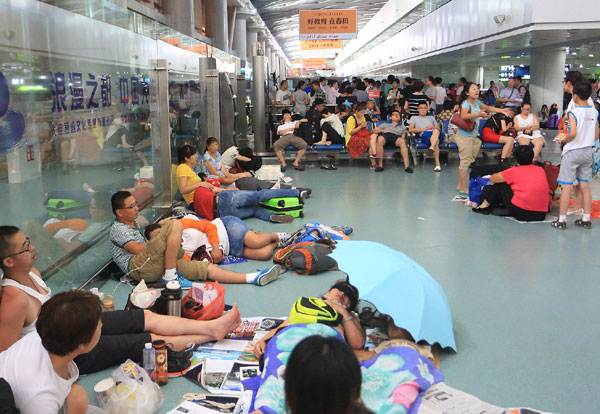 Passengers lounge around at Dalian airport in Liaoning province on Monday. Many flights have been canceled or delayed since Monday, affecting tens of thousands of passengers nationwide. Zhang Chunlei / for China Daily
Many domestic flights in China have been canceled or delayed because of summer storms as of Tuesday evening, according to a smartphone application and information from airline companies.
Twenty-four flights were canceled at Beijing Capital Internet Airport, and another 160 were affected by 6 pm on Tuesday, according to VeryZhun, a real-time flight tracking application.
World Civil Aviation Resource Net reported that about 600 flights were affected in Beijing on Tuesday, and that delays and cancellations were also seen at other major airports across the country in recent days.
On Monday, almost 200 flights at Shanghai Pudong International Airport and Shanghai Hongqiao International Airport were canceled, and about 120 flights were delayed more than two hours, according to information from the Internet.
Suggestions that planned military flight drills were behind the delays and cancellations spread online on Tuesday, but employees on duty at the Beijing airport denied that.
The number of flights between cities in East China will be reduced in about 30 days for purposes of air traffic control, Beijing News reported on its website.
Some airline companies confirmed to the media that they knew about the planned military activity, and the flights to cities in East China have been delayed or canceled since Sunday.
Air China said that some airlines' flights had been reduced in recent days, which also resulted in delays and cancellations. The airline promised to assist passengers who need alternative tickets.
Hainan Airlines confirmed on Tuesday evening that some flights had been affected for purposes of air traffic control. The company expressed regret about any inconvenience and said it will provide alternate ticket-booking assistance.
It suggested that passengers follow the company's flight information and contact staff members via its hotline and micro blog.
However, Beijing airport said no statistics were available about how many flights were delayed or canceled as of 6 pm on Tuesday. It was simply bad weather, not the military drills, that caused the disruptions, an airport contact said.
"We are tired of delays these days," said a captain from a domestic carrier. His carrier did not give him any reason for the flight schedule changes.
He said his colleagues all worked seven to eight hours on one flight because of the delays.
"I suggest you take a train if you're planning to go to certain cities these days," he said.
It is normal for flights to be delayed in central and eastern regions, especially in the summertime, another pilot said.
"We actually get used to the delays but didn't expect such serious ones," he said.
"Traditionally, domestic flights would be largely affected by bad weather in the summer in China's southern regions, so I believe most passengers would not expect their flights to be as punctual as those in other seasons," an aviation analyst in Beijing who requested anonymity said.
"Therefore if the suspicion of the coming military drills turns out to be true, then airlines' on-time performance will undoubtedly be very poor during that period, but passengers should understand that such situations come up in every country."