Supervision of officials' family affairs urged
A senior official from the Guangzhou Party Discipline Inspection Commission urged officials in this southern metropolis to be strict about the dealings of their spouses and children.
"Family corruption has now become a new trend in Guangzhou. Officials at all levels should well manage their family members," said Mei Heqing, a member of the standing committee of Guangzhou's anti-graft body.
Mei made the remarks after a growing number of corruption cases involving officials' family members and mistresses have been reported in the city in recent months.
According to Mei, his anti-graft body has investigated 93 major corruption cases involving 95 senior officials between January and June of this year.
More than one-third of the cases involved family corruption, Mei told a news conference on Monday.
He Jing, former deputy director of the Guangzhou Bureau of Public Security, admitted when he was tried in Shenzhen late last year to having accepted bribes worth more than 6.3 million yuan ($1 million) between 2003 and 2012.
He, 57, said he had used most of his bribes to support his mistresses. He was sentenced to life in prison, while his wife, Huang Aihong, who had helped He accept bribes, was sentenced to five years in prison.
Peng Peng, a senior researcher with the Guangzhou Academy of Social Science, said government departments at all levels should try to prevent the centralization of power by senior officials to help keep corruption in check.
He urged government departments to further reform the current promotion system of government officials to prevent making appointments by favoritism.
- Zheng Caixiong
Nearly 96 percent of respondents to a survey supported the central government's decision to send inspectors across the country to uncover acts of corruption.
Roughly 211,272 netizens participated in the survey initiated last week by China Youth Daily and Tencent.com, the operator of WeChat, a popular instant messaging and voicemail service in China.
A majority of netizens said they expected the inspection work to be enhanced by the Central Commission for Discipline Inspection of the Communist Party of China, the country's top anti-graft watchdog.
The survey found that netizens were highly concerned by the local authorities' passiveness in punishing corrupt officials, the lack of transparency in State-owned enterprises and corruption in land development and government-funded projects.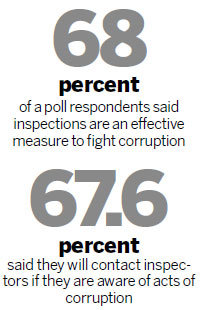 Sixty-eight percent of respondents said inspections are an effective measure to fight corruption, and 67.6 percent said they will contact inspectors if they are aware of acts of corruption.
The survey's results come shortly after the beginning of this year's second round of inspections - which began on July 16. Wang Qishan, China's top anti-graft official, has instructed inspectors to keep a close eye on mineral resources, land seizures, real estate developments and government projects.
According to the Central Commission for Discipline Inspection, inspectors will go to 10 provinces, a central administration, a public institute and a State-owned enterprise to collect tip-offs on corrupt activities by senior officials. The commission has completed three rounds of inspection since early last year, with 21 out of the mainland's 31 provinces inspected.
The anti-corruption measure has proven effective. Among the 20 senior provincial-level and national-level officials investigated this year, 16 came from regions that were recently inspected.
In Shanxi province, where inspectors were dispatched late last year, four senior provincial-level officials have been investigated.
On Sunday, Wu Changshun, chief of Tianjin's public security bureau, was placed under investigation 12 days after the completion of an inspection.
The inspectors have also found new trends in corruption.
Inspection teams in Beijing and Tianjin said earlier this month that many lower level officials, including village leaders, were found to have committed serious acts of corruption.
Zhou Shuzhen, a professor of anti-graft studies at Renmin University of China, said more senior officials are likely to be probed in the second half of this year because of the large amount of tip-offs received by inspectors.
Zhuang Deshui, a professor of clean-governance research at Peking University, said the Central Commission for Discipline Inspection has improved its inspection work, such as dispatching special inspectors to several key industries. They are also investigating State-owned enterprises that are monopolizing industries.
Contact the writer at anbaijie@chinadaily.com.cn