1,000 square dancers in Xi'an swear to squelch the sound. Death at a subway station interrupts rush hour in Beijing. And the big question: are Chinese women too good for Chinese men?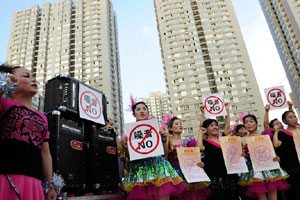 A thousand square dancers in Xi'an swear to reduce noise
Almost 1,000 square dancers in Weiyang district in Xi'an, the capital city of Shaanxi province on Tuesday, promised they will only do square dancing between 7 am and 9 pm, and keep the music volume under 60 decibels according to news.hexun.com on Wednesday.
Those dancers put "NO" posters on the speaker boxes as a gesture of their determination to keep a quiet and peaceful night for the residents nearby.
Related: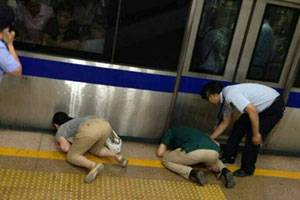 Passenger enters train tunnel of subway Line 2, dead
A woman entered the underground train tunnel at the Drum Tower Station in the outer ring of Beijing's metro Line 2, prompting the emergency shutdown of a subway train at 7:18 am on Wednesday morning. Subway staff cut power to handle the situation, news.163.com reported.
Passengers on that line had to transfer to ground vehicles due to the metro emergency.
The woman was found dead, and the body was carried away. The cause of death is unknown.
Related:
Beijing mulls higher bus, subway fares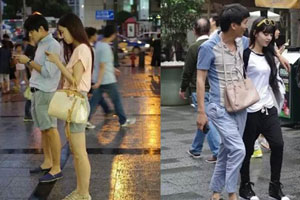 Are Chinese women way out of Chinese men's league now?
A thread titled Female looks more classy than male does in Shanghai with pictures as proof drew netizens' interest on the well-known social network platform Tianya Community. The article says Chinese men are mostly seen as looking wretchedly bad and low in spirits. They do not deserve Chinese women, who are fashionable with fit figures and hip looks. The article generated hot discussion and debate on the Internet.
Relevant surveys show that Chinese men don't think it is important to please women with their appearance. Also Chinese women do not demand much in a man's appearance. They care more about the men's personal traits and possessions. Moreover, some Chinese male government officials are potbellied, which fails to set a good example of a healthy figure for the public.
Related:
Attractiveness of Chinese women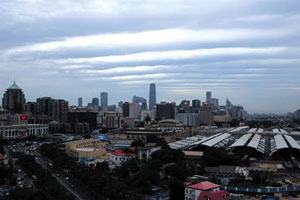 Doubt that band-like clouds in Beijing are seismic clouds
Many Beijing netizens said they saw some band-like clouds and questioned whether they were seismic clouds, which are believed by some researchers to be an omen of an imminent earthquake, the Beijing News reported on Wednesday.
The director of the Beijing Municipal Observatory declared that these weird clouds were called stratocumulus translucidus, which indicates sticky weather and have nothing to do with an earthquake.
Related:
Lessons from Wenchuan earthquake

Judge awards assets, then marries woman
A judge in Yongzhou who was hearing a divorce case awarded all the property from the marriage to the woman, and later married her himself, voc.com.cn reported on Tuesday.
The judge, surnamed Zhao, ruled in 2008 that the woman, surnamed Yang, was entitled to all the property in the marriage, while her husband, Cheng, must take all the debts as well as custody of their daughter. In July 2011, Zhao used his power to force Cheng to pay Yang 200,000 yuan ($32,226). Later, in April 2012, Zhao married Yang. The court of Yongzhou reheard the divorce case on July 14 and will make a judgment later.
Related:
Judge sacked over extramarital affair

Court rejects tourist's injury claim after fall
A court rejected a tourist's claim for injury compensation after he visited Shennong Mountain in 2011, according to inbw.com.cn. The man, surnamed Sun, fell while picking flowers in an area on the mountain closed to visitors. He was sent to a hospital, which billed him 90,000 yuan ($14,409) for treatment.
He claimed his accident occurred because of the lack of management from the local tourism administration and asked it to cover 80 percent of his medical expenses. The local court rejected his claim because Sun didn't heed the tourism administration's rules.
Related:
Outdoor attraction

Sleeping worker run over by truck
A worker at a construction site was killed by a truck during the night as he slept in an area open to vehicles, the Beijing Times reported on Tuesday.
The man, surnamed Feng, 20, was sleeping outside one night in April because his dormitory was hot and full of mosquitoes, the report said. He was killed at about 4 am by a truck that was delivering sand to the site. The truck driver was arrested and will be tried for negligence.
Related:
IT worker found dead on mountain