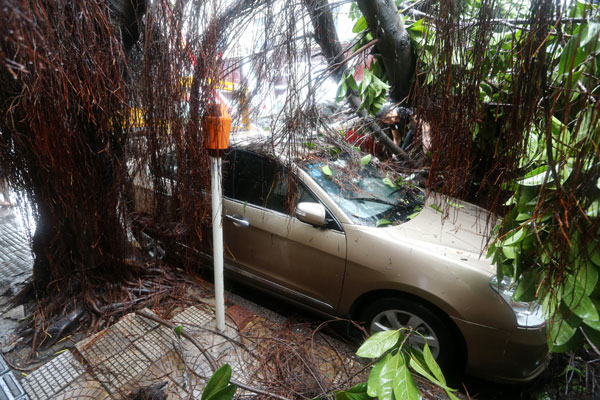 A huge billboard and trees fall on a car parked on the roadside in Fuzhou, Fujian province. Typhoon Matmo, the 10th typhoon to hit China's coast this year, struck Fujian province on Wednesday. Provided By Strait News
Typhoon Matmo, the 10th typhoon to hit China's coast this year, struck Fujian province on Wednesday after slamming Taiwan with heavy downpours and leaving 10 injured on the island.
Matmo made landfall at 3:30 pm in the city of Fuqing with wind gusts reaching as high as 108 km an hour, according to the National Meteorological Center. Powerful winds and torrential downpours battered Fuzhou, Ningde, Quanzhou and Putian.
Lin Jinsong, a taxi driver in Fuzhou, said steering his cab was like "driving a boat" as he passed through Fufei Road in a heavily flooded area.
"I would like to give myself a break today and stay at home as the winds are so awful that trees are being knocked down in the streets," Lin said.
An employee of a restaurant in Fuzhou surnamed Zhang said a lot of customers asked for takeouts.
"But I gave up delivering the dishes after I got drenched in the rain, despite wearing a raincoat. Bursts of powerful wind made it hard to breathe," Zhang said.
The Fujian provincial department of ocean and fisheries said on Wednesday that as of 9 pm on Tuesday, 30,470 fishing boats had been ordered to return to port and more than 150,000 people had been evacuated as the typhoon approached.
The typhoon halted traffic in and out of the province. Ninety flights to and from Fuzhou Changle International Airport had been cancelled and the Nanchang Railway Bureau said 118 trains departing from Jiangxi and Fujian provinces and heading to major cities, such as Beijing, Nanjing and Shanghai, were suspended on Wednesday and will remain so until Thursday.
According to Fujian's Maritime Safety Administration, ferry services between Xiamen and Kinmen, and between Quanzhou and Kinmen, have been temporarily shut down.
The passenger liners Haixia, which links Fujian province's Pingtan county and Taiwan's Taichung, and Natchan Rera, which travels between Pingtan and Taipei, suspended services for safety concerns.
The administration said four rescue planes and 55 patrol boats have been placed on standby in case of emergency.
Zheng Guo'en, an official with the Fujian Flood Control and Drought Relief Headquarters, warned of possible flooding, landslides and debris flows.
Gulangyu Island, a tourist destination in Xiamen, suspended operations on Wednesday afternoon, according to an official surnamed Lin at the Gulangyu management committee.
He Lifu, chief weather forecaster with the National Meteorological Center, said Matmo is expected to affect most of eastern China before Saturday, bringing torrential rains and strong winds.
"After hitting Fujian, the typhoon may move in a northwestern direction toward Jiangxi on Thursday and then head north, affecting Shandong and Liaoning provinces before the weekend," He said.
He said storms may dump as much as 400 millimeters of rain in parts of Fujian, Zhejiang, Jiangxi, Shandong, Liaoning and Jilin provinces and trigger flooding and mudslides.
Contact the writers at sunli@chinadaily.com.cn and wangqian@chinadaily.com.cn