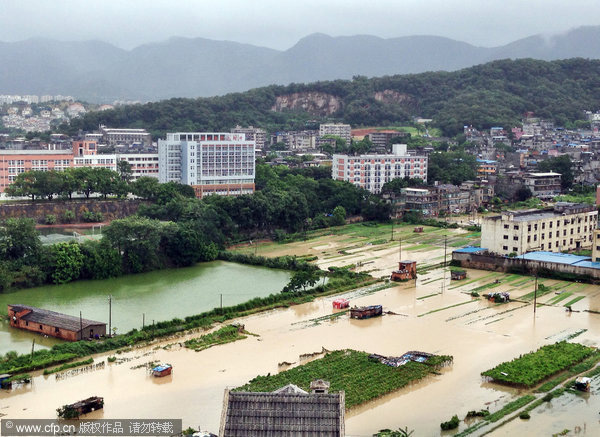 This photo taken on July 23 shows farmland in Fuzhou city flooded by rainstorms brought by Typhoon Matmo, which landed in East China's Fujian province Wednesday afternoon. [Photo/IC]
FUZHOU -- Typhoon Matmo made a landfall in east China's Fujian province on Wednesday afternoon, local authorities said.
With a wind speed of up to 30 meters per second, Typhoon Matmo, the 10th typhoon to affect China this year, landed in Gaoshan Township in Fuqing City at 3:30 p.m., according to the provincial meteorological bureau.
The typhoon is currently moving northwest, the bureau said.
Matmo has brought about strong winds and heavy downpours to parts of Fujian. A total of 296,804 people had been evacuated as of 3 pm on Wednesday, said the provincial flood control headquarters.