Longevity put down to not smoking or drinking; thief has a lot of bottle, but not much else and case to sue over missing logo in movie gets green light
Nothing to drink to for a foolish thief
A patrolman in Wenzhou, Zhejiang province, emptied the contents of more than 30,000 soft drink bottles before selling them and cartons in which they were stored in a warehouse, xinhuanet.com reported.
He and other three others spent 12 hours pouring out the drinks, worth 170,000 yuan ($27,419) before selling the empty bottles for 115 yuan.
He was detained by police for stealing.
Related:
Venezuelan thieves stealing hair to sell as hair extensions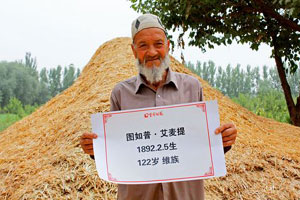 Man in Xinjiang claims place in record books
Aged 122, Turupu Aimaiti from Northwest China's Xinjiang Uygur autonomous regions is believed to be the oldest man in China. Reportedly born on February 5, 1892, he has children aged 80, Henan Business Daily reported.
He believes almonds and walnuts have contributed to his longevity and claims never to smoke or drink alcohol but is open to all food. Rising 6 am and sleeping from 11 pm he still helps the family farm.
Related:
Guizhou recognizes two more 'Valleys of Longevity'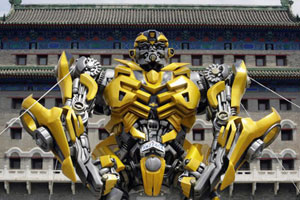 Case against Transformers producers gets go ahead
A case to sue the producers of Hollywood blockbuster Transformers 4: Age of Extinction for failing to show the Chongqing Wulong Karst Tourism Group logo in the movie and other financial losses, seeking 20.8 million yuan ($3.3 million) in compensation, has been accepted by a court, according to the company's general manager Huang Daosheng, Chongqing Evening News reported.
Huang said both Paramount Pictures and the movie's associated Chinese production company, 1905 Internet Technology Co Ltd of Beijing, are being sued.
Related:
Wulong Scenic Area to sue Transformers producers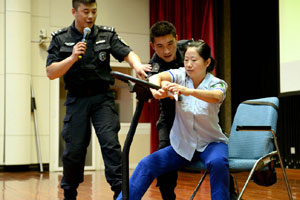 Beijing police teach bus drivers anti-terror tactics
More than 300 bus drivers and conductors were taught anti-terror procedures by Beijing police on Wednesday after two bus arsons this month, according to Xinhua Agency on Thursday.
In one training session, a conductor tried to prevent a person from igniting explosives while the driver stopped the bus and evacuated the passengers. The bus drivers and conductors were also taught methods of dealing with terror attacks and suspected explosives.
A police officer said the training would help bus drivers and conductors when an accident occurs.
Related:
Security officers to maintain bus passenger security

Capital closes coal-fired plant
The city closed a large coal-fired power plant on Wednesday, replacing it with a gas-fired facility to cut down on pollution.
The Gaojing Thermal Power Plant, a subsidiary of the State-owned China Datang Corp, shut down six coal-fired power generation units, according to the municipal development and reform commission.
Related:
Beijing closes coal-fired power plant to cut pollution

311 public vehicles are sold at auction
Yiwu held an auction for 554 public vehicles, but only 311 were sold, Qianjiang Evening News reported.
The auction began on July 11 and ended on Sunday. Anyone who deposited 10,000 yuan ($1,600) could take part in the auction by using their computers.
Related:
China sets agenda on govt vehicle use

Police launch hunt after 3 women killed
Police are hunting for a man who killed three Vietnamese women and seriously injured two others. The attacks took place on Tuesday evening in Fangchenggang city, chinanews.com reported.
The victims were aged between 20 and 40. Police said two died at the scene and the third in a hospital. The two injured are said to be out of danger.
Related:
Women must have a life of their own

Bus firm to pay out for passenger's death
A court has ordered a bus company to pay 50,000 yuan ($8,000) to the family of an elderly man with kidney failure in Wenzhou who fainted on a hot and crowded bus and later died in a hospital in July 2013.
The court said the company should have provided emergency rescue measures, Modern Express reported on Wednesday.
Related:
Beijing police teach bus drivers anti-terror tactics