Nearly 2,000 freshmen at Shanghai University of Political Science and Law have taken part in a counterterrorism exercise.
The training, a first for freshmen at a Chinese institute of higher learning, was a far cry from the dull repetition of the military goose step.
Clad in battle fatigues, the students wielded fake knives in imitation fights with "terrorists" who were played by their classmates or the drillmasters.
Zhang Zhiqiang, director of the university's student department, told China News Service: "The military training of freshmen is not only a disciplinary scenario to prepare them for reserve duty in the future. It is also a necessary professional drill to prepare them to better respond to immediate terrorist threats and emergencies in daily life."
Military training at the university, which produces future judges, lawyers and civil servants, lasts for three to four weeks at the end of the freshmen's first year.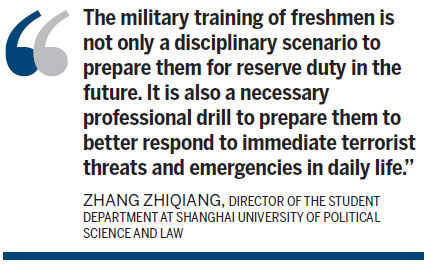 Students said they felt excited about the new practical skills they have learned. The best students are selected for a squad to "fight" soldier drillmasters in a final maneuver on the university campus.
During their training, the students also learned evacuation procedures for emergencies such as fires and earthquakes.
Parents and teachers said they believe the training is important and practical, as several recent terrorist attacks in China have shown that people are badly prepared to deal with emergencies.
In 1955, higher education institutes, middle schools and vocational schools in China started military training for new students under the nation's Conscription Law to prepare them for reserve duty.
Primary schools started military training, mostly in the form of physical education classes, from 2001 as required under the National Defense Education Act of China. The act was enforced that year to prepare students for school life.
liyang@chinadaily.com.cn