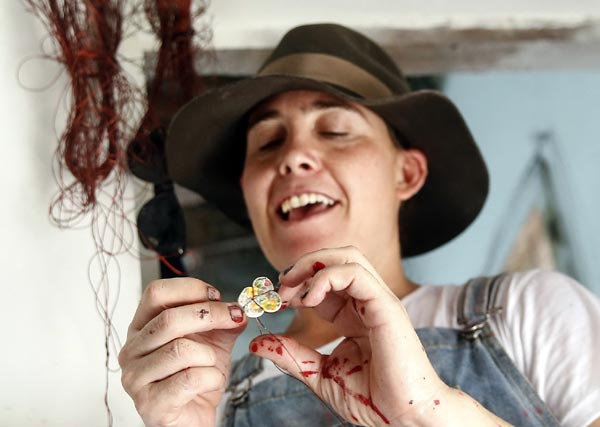 China De La Vega, an Australian potter and painter, enjoys life and work in Jingdezhen. Zhang Hao / China Daily
City's long history of fine ceramics lures followers from across the world, report Peng Yining and Hu Kaiyong in Jingdezhen,
Jiangxi
province.
Dressed in paint-stained coveralls, China De La Vega easily navigated the maze of alleyways running alongside a ceramics factory in Jingdezhen, Jiangxi province.
The 31-year-old Australian potter and painter wound her way through armies of one-meter-high ceramic Buddhas and piles of porcelain shards while nodding greetings to the workers and residents.
She said the locals are used to seeing foreigners in Jingdezhen, China's "porcelain capital", where fine ceramics have been produced for more than 1,700 years, attracting numerous "porcelain pilgrims" from across the globe.
Unlike huge Chinese metropolises such as Beijing and Shanghai, Jingdezhen is a prefecture-level city with no "bar streets" or international stores that are popular among expatriates.
But despite its lack of Western chain stores, Jingdezhen is one of the most international cities in inland China, with ceramic studios owned by foreigners dotting the streets, the surrounding countryside and even remote mountaintops.
When she first visited the city in 2011, De La Vega was impressed by the discarded pieces of porcelain she found lying around. "I dug out many pieces from the soil around the ceramics works - all the old Buddha heads, hands and feet, which I rebuilt into new sculptures and used in my next exhibition in Australia," she said. "I love this place because the process of making ceramics is a very peaceful one."
'Traditional cowgirl'
De La Vega's studio is an old house, which she rents for 4,000 yuan ($642) a year, beside a ceramics works. She repaired the leaking roof and put in a skylight to allow sunlight to flood the room. While she is busy creating, her 2-year-old son attends a local kindergarten.
In one part of the studio, she was soaking pieces of broken porcelain, which she had polished into floral shapes. She plans to use the shards and copper wire to make a large porcelain bouquet - her artistic "signature" - that will feature in her forthcoming exhibition in Sydney.
De La Vega's Argentinean father named her "China", which she said means "traditional cowgirl". "But in English it means both porcelain and the country, so my friends say I was destined to work in China with porcelain," she said.
Yuk Kan Yeung, a 54-year-old ceramic artist, regards Jingdezhen as almost a holy place. An employee of the famous Gallery Terra Delft in the Netherlands, Yeung is working as an artist in residence at the Sanbao Ceramic Art Institute, a private art center in a suburb of Jingdezhen, for four and half weeks to improve her skills.
"Delft is also a city with a sophisticated ceramics tradition, but nowhere can compete with Jingdezhen. Every potter knows Jingdezhen, and every one of them wants to come here."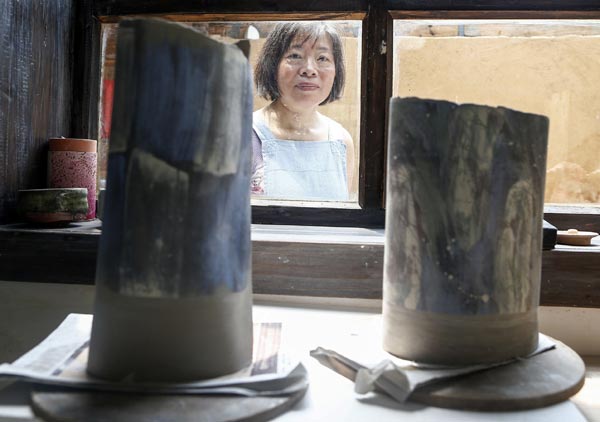 Yuk Kan Yeung is spending more than four weeks as artist in residence at the Sanbao Ceramic Art Institute in Jingdezhen. Zhang Hao / China Daily