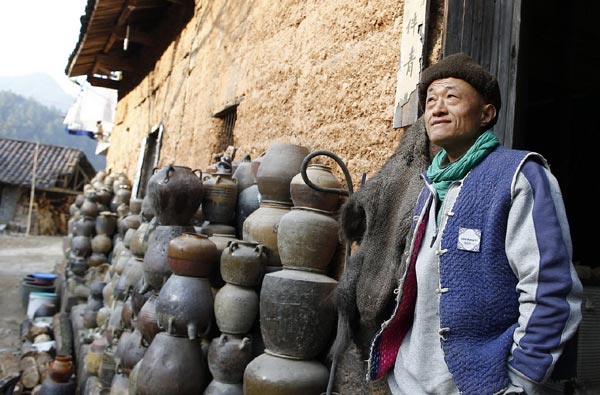 Li Jianshen, founder of the Sanbao Ceramic Art Institute, poses with his pottery collection. Provided to China Daily
When Li Jianshen founded Sanbao Ceramic Art Institute in 1998, the building in which it is housed was just an old house Li bought from some local farmers in the suburbs of Jingdezhen.
Sixteen years later, the institute is one of the city's most famous centers for ceramics, attracting more than 100 foreign artists every year.
"Sanbao provides artists with a quiet place to work, a chance to learn the ancient Chinese ceramic tradition, and also a rural lifestyle, which is natural and peaceful," said Li.
After graduating from the Jingdezhen Ceramic Institute in the 1990s, Li continued his studies at Alfred University in New York. He said the ceramic arts are well-developed in the US, where at least 300 universities have ceramics departments, and the country has hosted a national ceramics conference annually for more than 20 years.
"My early experiences in the US really opened my eyes," Li said. "At that time, art residencies were well established in the US and many other Western countries, but the concept was still new in China."
Li believes that he was the first person to provide artistic residencies in Jingdezhen, calling them "an experiment by an idealist."
After renovating the old house, Li gradually added more facilities, including a gallery, a dormitory and a museum. The main office of Sanbao sits in a quadrangle decorated with old wood found in abandoned houses. The buildings are connected by a zigzagging stream, and dogs yawn on the moss-covered stone steps.
In Chinese, Sanbao is known as Guo Ji Tao Yi Cun, or the international ceramics village, and has the ambiance of a sleepy Chinese village, albeit one with Wi-Fi and a bar.
"In Sanbao, I can avoid all distractions," said Jessie Lee, a ceramic artist from Grymsdyke Farm, a design, research and fabrication center in Buckinghamshire in the United Kingdom. "Once in a while, artists need to get away from everyday life and focus on their work."
Lee planned to stay for about three months. Every morning at 8 am, she had breakfast with other artists before repairing to her studio to work with materials provided by the institute. She said Sanbao provides a good environment for artists, and also has good communication facilities.