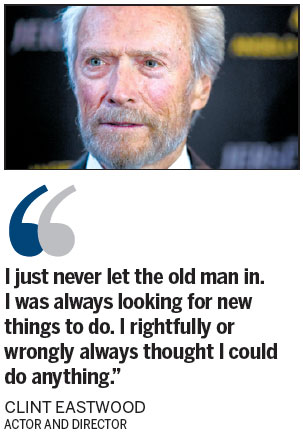 Amid the swirl of an early 1960s party scene in Clint Eastwood's latest project, an adaptation of Jersey Boys, the hit Broadway musical about Frankie Valli and the Four Seasons, a television screen flashes an unexpected face: young Eastwood, himself, in black-and-white.
The period-appropriate shot from the TV Western Rawhide - a wry Hitchcockian cameo - condenses in a moment the almost unfathomable breadth of Eastwood's career: fresh-faced cowboy to steadfast Oscar-winning director. Does it feel like a lifetime ago to Eastwood?
"Several lifetimes ago," chuckles the 84-year-old director. "Seeing myself in 1959 or '60 or '61 or whenever that episode was done, it was kind of like: Wow. I've traveled a long road since then."
That road-from Sergio Leone's spaghetti Westerns to Eastwood's own Unforgiven, from Make My Day to Get off My Lawn - has made an unlikely detour down the New Jersey Turnpike. Jersey Boys - Eastwood's 12th film as director since turning 70-only adds to what's by now one of the most remarkable late chapters of any filmmaker. How has he done it?
"I just never let the old man in," Eastwood says. "I was always looking for new things to do. I rightfully or wrongly always thought I could do anything."
Such an attitude explains many of his accomplishments. Who else would have thought a tragic story about a female boxer (Million Dollar Baby) could be such a success? And who would have expected the man - "a tall, chiseled piece of lumber, a totem pole with feet", as James Wolcott called him mythologized as both The Man With No Name and Dirty Harry would be taken by the story of the guys behind Big Girls Don't Cry?
"The whole secret in life in any profession, regardless of whether it's entertainment or anything else, is just being interested," Eastwood says.