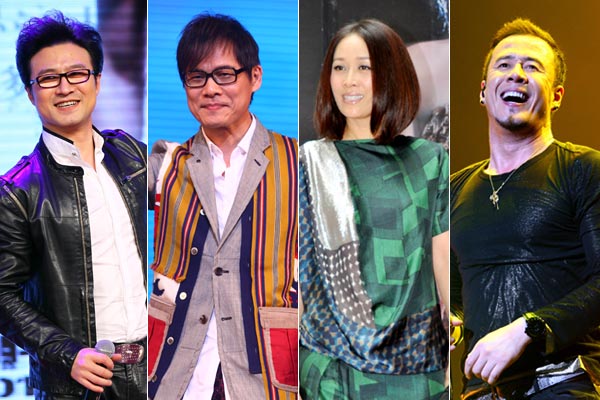 (L-R) Chinese musicians Wang Feng, Luo Dayou, Na Ying and Yang Kun will act as coaches on the 3rd season of hit reality talent show "Voice of China." [Photo/chinadaily.com.cn]
Hit reality talent show "Voice of China" is returning this summer with a new group of coaches.
According to Sina Entertainment, Chinese musicians Na Ying, Wang Feng, Yang Kun and Luo Dayou will act as coaches to guide the contestants during their performances.
The media has speculated the new group of coaches will be composed of two female and two male musicians, but the third season of "Voice" has returned to its original mode of one female and three male coaches.
Chinese musician Na Ying, the only coach who has participated in the show since its debut, will continue to judge this season. Chinese rock singers Yang Kun and Wang Feng, who have respectively judged on the show on the first and second season, will also join the judging panel.
Luo Dayou, a Taiwan-based singer often referred to as the godfather of pop music in China, is a new addition to the show. Luo has previously judged on "The X Factor" in 2013, is known for his somewhat harsh and to-the-point comments.
The first episode of the third season will air on July 11 on Zhejiang Television.