Eateries ready to score with World Cup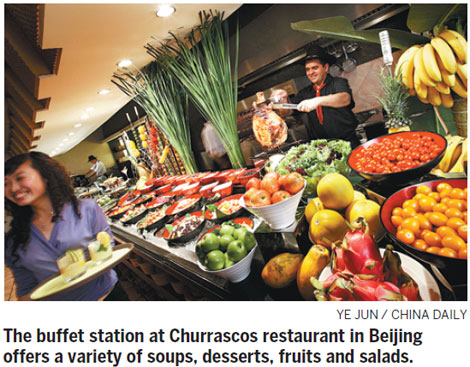 Football fans are geared up for the World Cup from now until July 13. But if you are not going to Brazil to enjoy the games. Beijing's restaurants and bars are ready to serve up a passion-ate month of football, accompanied by good food and drinks.
The Minzu Hotel's Coffee Mill has been decorated to give customers a complete World Cup atmosphere: The entrance boasts a miniature soccer field with goal nets on both sides, while waiters and waitresses are dressed as soccer players, referees and Carnival-style cheerleaders.
In the evening there are samba dance performances. Diners can participate in soccer matches to win souvenir T-shirts and medals. Besides these sideshows, there is a wall-size LED screen so that fans can watch the games.
The hotel has specially invited two Brazilian chefs for the occasion: Camila Betin opened Factory Restaurant last year in the 798 art zone in Beijing to high acclaim, while Cristiane Bar-bosa da Rocha flew out specially from Brazil for the event.
The chefs brought the makings for some tasty Brazilian delicacies. Some must-try dishes are the very tender braised beef, refreshing Brazilian herbal soup and Brazilian home-style deep-fried dumplings.
There is also feijoada, a signature Brazilian stew of black beans with smoked pork, as well as beef rice, roast beef with pepper and pineapple juice and Brazilian-style braised crab.
The restaurant is open 24/7 during the World Cup, so fans can enjoy live games and replay broadcasts. Coffee Mill offers an international style buffet with cold dishes, hot dishes, desserts, fruits and juices, besides Paulaner beer from Germany.
Lunch costs 138 yuan ($22) per head, and dinner is 158 yuan per person.