Pistolera promises the big guns of Mexican cuisine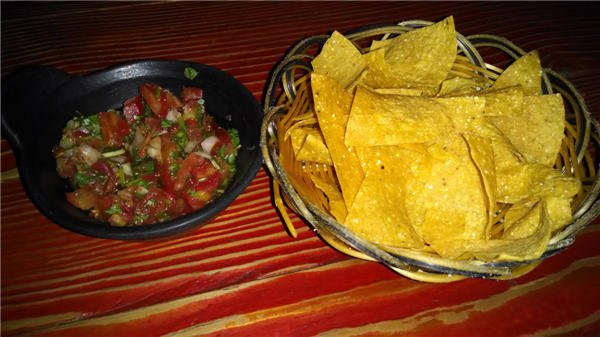 Chips are served as a starter with a spicy and tangy pico de gallo. Photos by Bidisha Bagchi / For China Daily
A simply styled restaurant tucked into one corner of busy Biyun Road, Pudong, the Pistolera Mexican Grill & Cantina has just celebrated its fourth year in Shanghai. Sheltered outdoor seating beckons as the days get hotter, but the big draw is not the summer breeze but the food.
Preparation of food in Mexico is often referred to as mestizaje, or "mixing", in a land of many cultures and culinary traditions.
Corn, a staple for thousands of years, finds its way into nearly all foods, along with beans and peppers. Building on that base, myriad flavors come from avocados, coconuts, pineapples and other fruits as well as spices and herbs like cinnamon, clove, anise, cilantro, thyme and the pungently distinctive epazote.
Our meal started with a bowl of fresh chips served with a spicy and tangy pico de gallo. "Seven seas" seafood soup is awash with shrimp, squid, fish, mussels and clams cooked and served in spicy broth with pepper and tomato.
Also interesting: The homestyle beef-and-vegetable stew known as cocido, and the tortilla soup, in which shredded chicken and fried tortilla strips are served in thick chicken broth along with tomatoes and chipotle chili. Pistolera has a way with chilies - signature chili dishes start from a simple chili bowl to a chili Sonora hot dog to a chili-bathed burrito to casual chili nachos.
Appetizers include quesadillias in many forms, from old-fashioned fried ones to some hipsters. The shrimp variety with its chipotle chili cream has a mild hot and spicy taste, but the added splash of tequila may not appeal to everyone. My personal favorite has been the beef chili quesadilla - the simplest and the tastiest.