A culinary Mexican marriage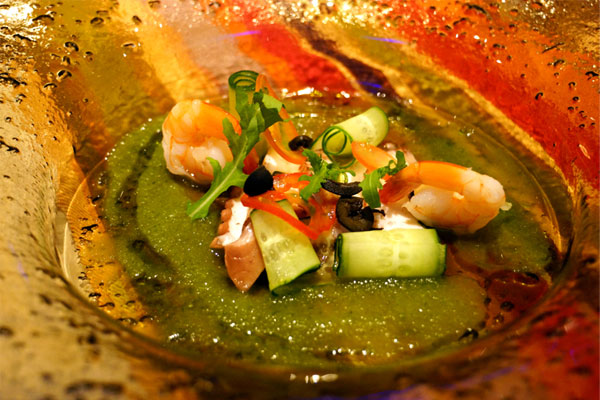 A fresh dish of octopus and prawn served on a base of aguachile, a lip-puckering concoction of citrus, cucumber and black olives. Photos by Ye Jun / China Daily
Tacos, nachos, tortillas are synonymous with fast food in the US. But in Beijing, Ye Jun is pleasantly surprised by Mexican haute cuisine.
Mexico is the birthplace of corn, chili and beans, and if you are sitting down to a Mexican feast, these are all but to be expected. But when the chef combines them with ingredients common in China such as cucumber, foie gras, pork belly, and duck, that is when the difference hits you.
Visiting chef Enrique Farjeat, at Prego's, Westin Beijing Financial Street, does not hesitate at cross-culinary marriages, given his training and exposure to French, Italian and Japanese cuisines, and he certainly strutted his stuff at a special dinner recently at the fifth annual Hats Off event at Prego's.
For example, he presents a velvety bean soup with foie gras and corn tortillas, pork belly with apple and habanero peppers, duck in mole negro and plantain served with corn-flavored rice.
All were delicious, but light and only one or two were even a little spicy, with hints of the famous Mexican chili. The chef is careful to consider local palates and he is more intent on blending elements from other cultures to create a comfort zone.
Farjeat has 17 years of cooking experience behind him, having received his first gastronomic training in Paris. He later became the director of food and beverage at St. Regis Hotel in Mexico City, and he currently collaborates with chef Alicia Gironella at Cultura Culinaria and the Conservatorio de la Cultura Gastronomica Mexicana, both in Mexico City.
"Mexicans started to grow corn 8,000 years ago," says the chef. "Thousands of years ago, people bartered with corn."
After the Spanish arrived in Mexico in 1492, Mexican cuisine adopted Spanish influences. Further down the ages, subsequent waves of immigration from China, Japan and Portugal added ingredients such as cinnamon, ginger and lemongrass.
But the Mexicans have preserved much of their pre-Hispanic foods. One is the unique technique of scorching ingredients such as peanuts, and grinding them to paste.
Seafood also plays a major role in Mexican cooking, due to the country's proximity to the ocean.
To demonstrate, Farjeat showed off with a fresh dish of octopus and prawn served on a base of aguachile, a lip-puckering concoction of citrus, cucumber and black olives.
Mexico has diverse climates and regions and it nurtures a vast variety of different cuisine styles - so much so UNESCO added Mexican cuisine to its list of world intangible cultural heritage in 2010.
"It's not just the food, but the gastronomy," says Farjeat. "It is a way of living, the way you cook, and preserve your gastronomic traditions."
Farjeat says Mexicans are not what you see portrayed in antiquated Hollywood movies.
"Mexicans laugh at many things. They celebrate not just marriage, but also divorce. People celebrate Halloween with foods inspired by the dead, such as bones made of flour, and skulls made of sugar."
He says there are many national holidays in a country known for its fiestas and tequila - a happy party country.
Farjeat's China experience has been eye opening. Before his arrival, he was afraid his food would be rejected, and he had been told that the "Chinese eat strange foods".
"But people here are very kind. It is a very cosmopolitan world," he says.
Contact the writer at yejun@chinadaily.com.cn.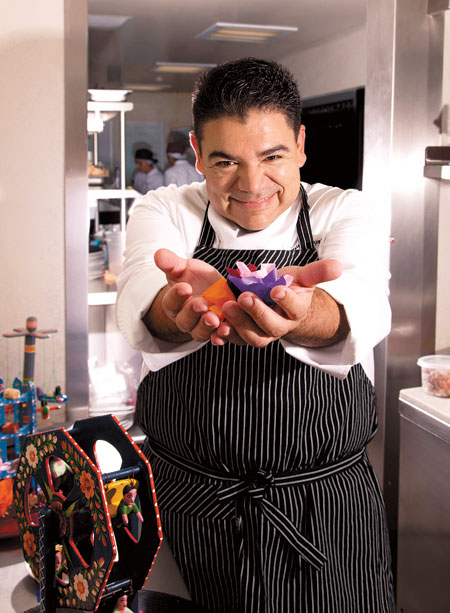 Visiting chef Enrique Farjeat presents a special dinner at the fifth annual Hats Off event at Prego's.