Chic sushi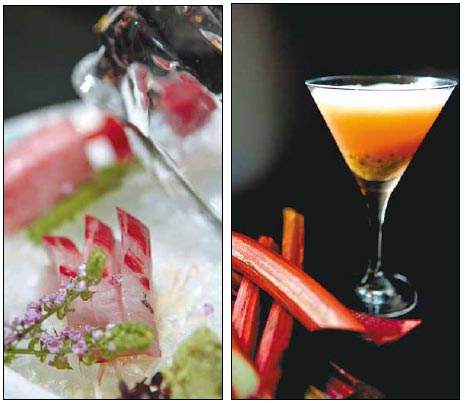 Zuma's signature dishes, sashimi platter and Rhubabu cocktail.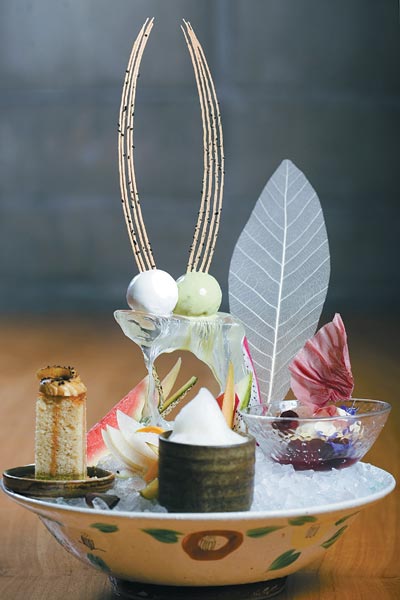 The dessert platter is a work of art, as good as the main course. Photos provided to China Daily
Pauline D. Loh joins Hong Kong's foodie crowd and explores a cuisine in which its most representative dishes have taken on a style best described as cosmopolitan.
Zuma towers above its neighbors at the Landmark, that time-tested bastion of designer brands in the business heart of Hong Kong. As night falls and the mall stores see their last customers off, Zuma is quietly preparing for another evening of epicurean surprises.
In its stylish enclave on the fifth floor, staff wait for the first guests as they descend the lighted stairway from the sixth floor, an orchestrated access that allows customers a top view of the sushi counters and kitchens — a visual appetizer of things to come.
As we sit and browse the menu, edamame beans come in a white bowl, together with a twin container for the pods. The beans are very tender and flakes of sea salt add sharp shots of flavor.
Bedazzled by choices, we decide on the tasting menu and accept the recommendation of a signature cocktail, a deliciously pink concoction in a martini glass.
Rhubabu is the first eyebrow raiser of the evening.
Rhubarb-infused vodka and Japanese sake are combined in a cocktail peppered with passion fruit pulp — proof that some East-West marriages actually work. It's a really easy drink that will color your cheeks, but the tart tang helps whip up an appetite.
Which is just as well, because you will need a fairly large capacity for the tasting menu. However, it is still the best choice for a first-time diner, since it gives you a preview of the best Zuma offers.
The sashimi and maki platter is a work of art. Buttery yellowtail, fatty salmon and tender tuna take pride of place on an enormous icefilled, sculptured platter. Every slice attests to the quality ingredients that are specially flown in for the Zuma kitchens.
But for me, it is the signature chirashi maki that shines like a miniature spotlight on the plate, bringing a tapestry of flavors and textures to the mouth that is strangely more California than Tokyo.
The second surprise of the evening is the ebi or prawn sashimi, smothered with sea urchin cream, sumptuous and indulgent and a confirmation that nature is sweetest in the raw.
That sunny California feeling is reinforced with the arrival of the mizuna salad with a poached egg dressing, roasted seaweed and crispy whitebait. Again, a symphony of flavors and textures sings in the mouth, and you forget you are chewing a salad, that almost obligatory nod to health from guilty gourmets who dare to indulge.
The tempura is next, and the prawns are appropriately large and ramrod straight. Maitake mushrooms are also hand-torn and deepfried, their rippling fan-shapes captured in crisp, clean batter. I couldn't get enough.
By the way, these lovely fungi, known as "hen of the woods" in the West, are called a much lovelier name in Chinese — "dancing mushrooms" or wurong.
Meat appears next, a piece of meltin- the-mouth Wagyu beef that is heated up with warm spices. This is when you slow down and savor every bite as the meal winds down.
The final astonishment of the night is the opulent dessert platter. I won't spoil the surprise for you because you have to try this even if you are aleady satiated by Zuma's many delicious offerings. Save room for this and you won't regret it. All I can tell you is that this is the first time I tasted garnishes that are as good as the main attractions.
There are times when you really wish you had more than one stomach, but then, as we Chinese wisely say, an exquisite tasting is better than a greedy banquet. Okay. I made that up.
Contact the writer at paulined@chinadaily.com.cn.