It's curious how enthusiasts come by their obsessions. A Japanese sock doll found on a random shopping trip, for instance, triggered clothes designer Chang Deqing's consuming interest in dolls and also stimulated him to make a life-changing decision.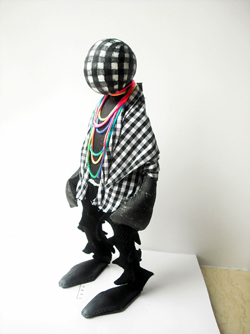 Provided to China Daily
After that inspiration in 2007, "I couldn't help making one myself after getting home," says the 35-year-old Chang, who had been a chief artistic director of a Shanghai-based clothing company for eight years then. "You could play with a sock and change it into different shapes. When you put stuffing in the sock, it becomes a doll. It's a work of art."
He started hand-making toys with different fabrics, giving each doll a personality and a name. At first he just made toys after working in the office, but then he wondered: "Wouldn't it be fun to make a toy kingdom for myself?"
Two years later, he gave up his stable job and became an independent toy designer, an entrepreneur with a toy brand - Big D Studio.
"I love toys with black humor. Though most of them have no face, they have their own characters," he says.
His first product, a boy with a punk haircut and no face, is called Black Pudding. The doll, made from a black sock, was later developed into a series that was exhibited at a show in collaboration with Aston Martin, British manufacturer of luxury sports cars.
Then in April 2011, Chang was invited to design toys for Giorgio Armani.
In eight months, he presented a series of toys with reggae flair, using short wool for dreadlock and sewing two big buttons on each side of the face, which looks like earphones.
The series boosted Chang's career to a new level, with many Chinese fashion stores eager to work with him.
"Toys are so intertwined with the art and design scene that it's hard to ignore the relationship," he says.
"Being a designer in China is very hard because the market for original design is very small," he says, confessing that he almost gave up. But research in the domestic toy market gave him confidence. Chang says the potential is very big for toys for adults.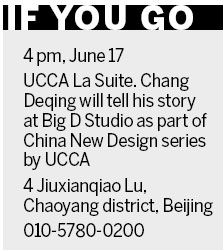 "Every adult, whatever age and gender, has a child inside. I could see the inner child in the eyes of many consumers when they look at my toys. Their eyes sparkling and soft," he says.
Most of Chang's toys are limited editions with 20 copies at most.
It usually takes Chang a month to finish one design. He likes following the inspiration brought by different fabrics and he ponders for a long time before setting out to design.
"It's like playing tai chi, slow but powerful," he says.
chennan@chinadaily.com.cn