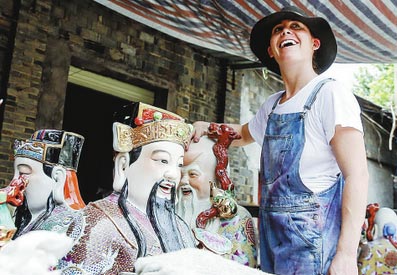 Australian potter and painter China De La Vega works in Jingdezhen in Jiangxi province on June 16. The city is known as China's "porcelain capital". Zhang Hao / China Daily
City's long history of fine ceramics lures followers from across the world, report Peng Yining and Hu Kaiyong in Jingdezhen, Jiangxi province.
Dressed in paint-stained coveralls, China De La Vega easily navigated the maze of alleyways running alongside a ceramics factory in Jingdezhen, Jiangxi province.
The 31-year-old Australian potter and painter wound her way through armies of one-meter-high ceramic Buddhas and piles of porcelain shards while nodding greetings to the workers and residents.
She said the locals are used to seeing foreigners in Jingdezhen, China's "porcelain capital", where fine ceramics have been produced for more than 1,700 years, attracting numerous "porcelain pilgrims" from across the globe.
Unlike huge Chinese metropolises such as Beijing and Shanghai, Jingdezhen is a prefecture-level city with no "bar streets" or international stores that are popular among expatriates.
But despite its lack of Western chain stores, Jingdezhen is one of the most international cities in inland China, with ceramic studios owned by foreigners dotting the streets, the surrounding countryside and even remote mountaintops.
When she first visited the city in 2011, De La Vega was impressed by the discarded pieces of porcelain she found lying around. "I dug out many pieces from the soil around the ceramics works - all the old Buddha heads, hands and feet, which I rebuilt into new sculptures and used in my next exhibition in Australia," she said. "I love this place because the process of making ceramics is a very peaceful one."