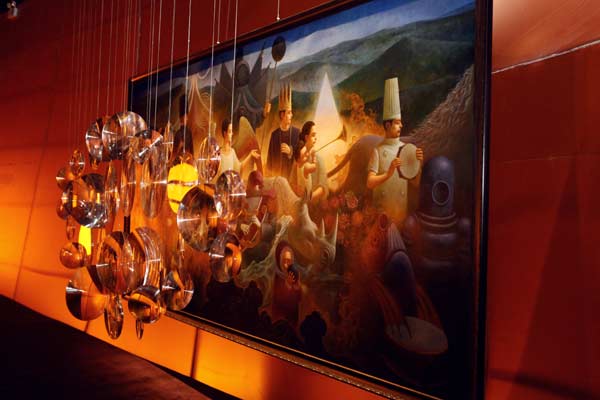 [Photo provided to chinadaily.com.cn]
What happens when sound, space, dance and fine art are blended and stimulated by whiskey? The results may eradicate established perceptions. Five recent examples in which eight artists stirred up the senses, infusing the dynamics of contemporary art with the "keep walking" spirit of Johnny Walker, a worldwide distributor of whiskey culture, was on display in Beijing.
The project "Keep Walking" is a multi-dimensional presentation and audio carnival and a visual and tasting experience, says Zhou Zishu, the project's curator.
In Ji Yiwei's painting "Mirage of Light and Shadow," a fairytale like scene is presented in a joyful and festive atmosphere. Angels, soldiers and animals are surrounded by gold fluid and look in the same direction as if anticipating something important. The background that changes from light to dark colors implies the four seasons cycle.
Unmask, a group consisting of three artists, sculpted the iron work, "Flame of Rejuvenation," depicting a deformed figure running as his body is covered in flames. Its incomplete and rough appearance encapsulates the warmth of life and power of consistence. Zhang Zhenxin, an award-winning dancer with the National Ballet of China, made a video in which he presents five separate dances. In "Passage of Life," he demonstrates the importance of breakthrough through actions of shedding controls and being reborn.
Wu Zhe, a sound artist and rock 'n' roll lover, remixed all variety of sounds she recorded while in Scotland and Beijing.
Connecting the four works, architect Han Tao designed a path covered by semi-transparent film on both sides. Projectors show images of gold light and shapes of flowing liquid and dots to address the mystery of whiskey as a long-standing popular drink.
The project was exhibited in Beijing's 751 D-Park area in May.