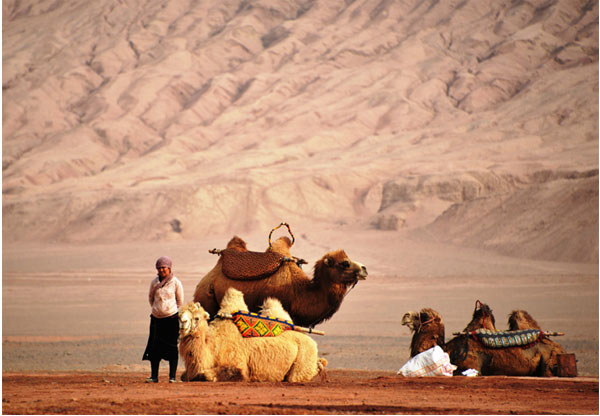 The ancient Silk Road, a corridor for trade and cultural exchange between Asia and Europe dating back 2,000 years. Jiang Xiaoming / for China Daily
Part of the Silk Road has become China's first international joint project to be recognized on the UNESCO World Heritage site list, as the ancient route between China and Europe is catching increasing attention from the international community.
China gained its 46th and 47th listings on the World Heritage Site roster, as well as its 32nd and 33rd World Cultural Heritage designations, on Sunday when the World Heritage Committee approved including parts of the Silk Road and the Grand Canal on the lists at a UNESCO conference in Doha, Qatar.
The portion of the Silk Road passes through China, Kazakhstan and Kyrgyzstan. It is one of the biggest World Cultural Heritage areas in terms of geographic distribution and is the first World Heritage site co-owned by China and other countries.
"The success of the Silk Road also gave us important experience in terms of cross-border cooperation in the field," said Tong Mingkang, deputy director of the State Administration of Cultural Heritage and the head of China's delegation to Doha.
According to Lu Qiong, deputy head of the office in charge of World Heritage Protection under the State Administration of Cultural Heritage, the steering committee of the trilateral working group for the Silk Road project held 15 meetings in China to prepare for the application. The filings had to be written in five languages, which greatly increased the workload.
In September, President Xi Jinping, in a speech in Astana, Kazakhstan, first proposed building a Silk Road economic belt to boost regional cooperation with Central Asian countries.
"Listing the Silk Road as a World Heritage will create a new belt connecting China and Central Asia for peaceful dialogue and common development," Tong added. "We will keep promoting coordination among the many sides concerned to explore a practical way to better reserve, manage and utilize the huge and dynamic cultural heritages in modern times."