The ancient Silk Road not only points to the past but also leads to the future of the places through which it laces. Cui Jia reports.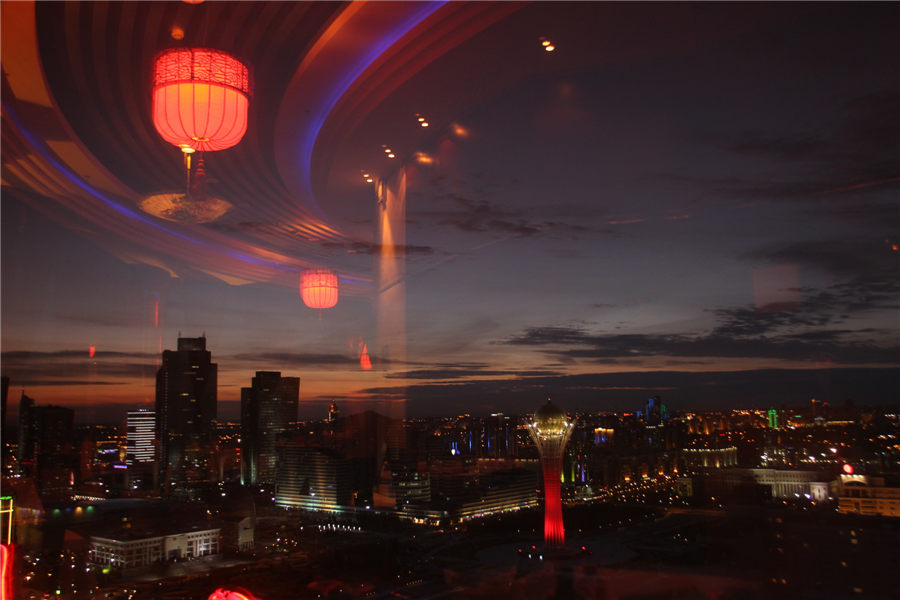 Kazakhstan's Astana is one of the world's youngest capitals and has a futuristic skyline. [Photo by Zou Hong/China Daily]
Colored murals at an ancient archaeological site in Samarkand, Uzbekistan, record a Chinese princess traveling across a river on a boat to meet—and perhaps marry—the local ruler. In another scene, Chinese ambassadors present the king with rolls of silk.
Traces of the ancient Silk Road can be found in many modern cities along the route.
And intangible remnants of the trade route's legacy remain in the collective memory of those who live in the regions.
Bustling bazaars became cultural-exchange centers.
Merchants brought new ideas and cuisines as they traveled and picked up locals' habits and traditions along the way.
As one bartender in Uzbekistan's capital Tashkent puts it: "The Silk Roads make you have me and me have you."
The maze-like Grand Bazaar (Kapali Carsi) in Istanbul, Turkey, was the merchants' final destination of the ancient Silk Road on land. Goods were shipped from there to Europe by sea.
Tea remains a popular item in the bazaar. The pronunciation of tea in Turkish is chai, which comes from its Chinese pronunciation, cha.
Many countries hope to revive the trade route since Chinese President Xi Jinping proposed idea of building the modern Silk Road Economic Belt. And new cities, such as Kazakhstan's capital Astana can also join the belt.
Although trucks and trains have replaced camels and horses, the essence of the route remains unchanged. It continues to connect people.