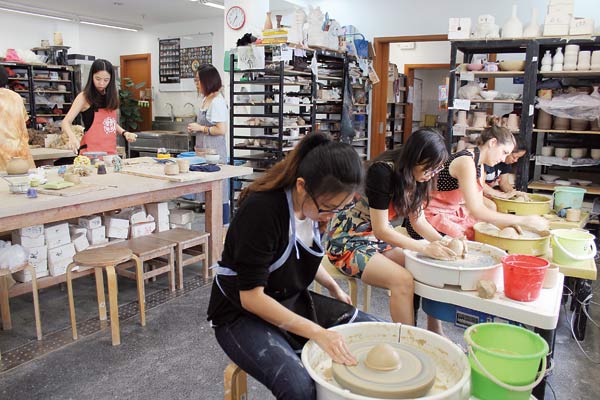 Isabel Frey (far right) joins fellow workshop students at the potter's wheel. Photos by Yu Ran / Shanghai Star
Using three simple materials and a pair of hands, students at this work shop can transform a lump of earth into a feat of clay. Yu Ran discovers the allure of an ancient craft.
Soil, water and fire. With the same materials that man used to produce the first pots a few thousand years ago, hobbyists at the Pottery Workshop in Shanghai mold their ceramics to perpetuate one of the most ancient human activities.
The group consists of artists, foreign visitors, students and local residents, who are fond of getting their hands dirty to create ceramic objects.
First established in Hong Kong in 1985, the Pottery Workshop, a ceramic art education and communication center, now has three other branches — in Shanghai, Jingdezhen, Jiangxi province and Beijing. The center in Shanghai offers lessons apart from producing ceramics.
"We provide a quiet and comfortable place for our members to learn and produce ceramic works by hand," says Guo Yuhong, studio manager of the Pottery Workshop in Shanghai.
Guo Yuhong, who majored in pottery art, is in charge of teaching adults how to make their own pieces step by step.
She is eager to share with beginners what she has learned at university. In her spare time, she also designs and creates works that are sold at the Pottery Workshop's showroom.
The people who choose to take the pottery class share the same passion for using their hands to create pottery in the ancient tradition.
"I am staying in Shanghai for a very short time, so I decided to explore Chinese culture and art through learning a traditional Chinese craft," says Isabel Frey, a 35-year-old architect from Switzerland whose husband was assigned to work in Shanghai for six months.