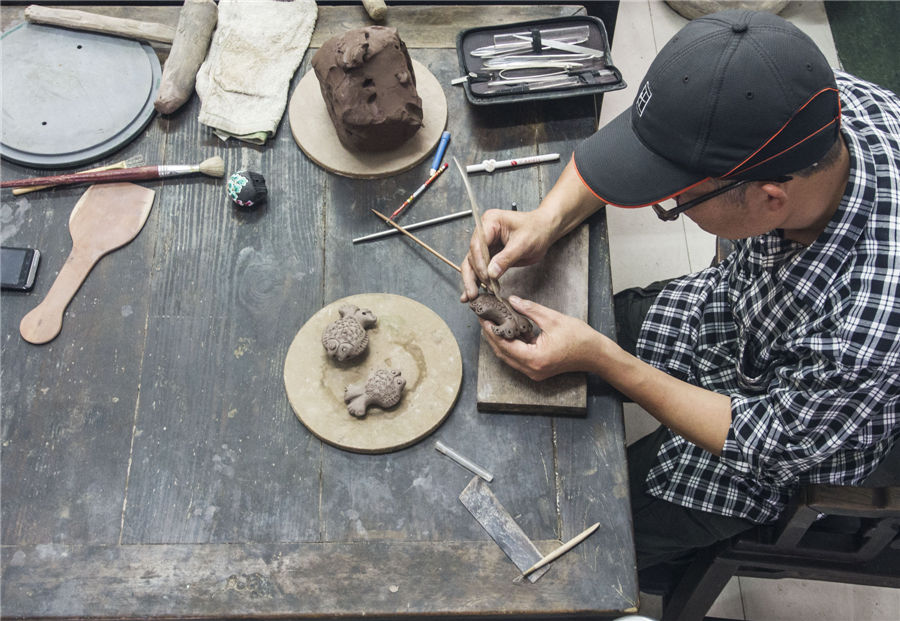 Zhou Baokang works on nijiaojiao (a traditional clay whistle) at his studio, in Zhenjiang of Jiangsu province, July 15, 2014. [Photo by Feng Jiangjiang/Asianewsphoto]
According to Zhou, a nijiaojiao usually takes him 15 minutes to finish, but following a calcination and coloring process, it takes more than two weeks to finish.
Zhou Baokang, 52 years old, first noticed the traditional handicraft nijiaojiao in Huashan village in Zhenjiang in Jiangsu province 10 years ago, and since then he has been an enthusiast for the folk art . After learning from local artists, he began to made the nijiaojiao clay whistle by himself.
For him the nijiaojiao looks simple but carries a profound history and reflects local traditions. He has now turned his own house to a free folk art museum that preserves nijiaojiao culture. The endangered intangible cultural heritage has come to life thanks to Zhou Baokang's efforts.
The handicraft nijiaojiao in Huashan village in Zhenjiang is said to have originated from the Southern Dynasty (AD 420-589), and was handed down from generation to generation through folk craftsmanship customs. Nijiaojiao, which can be used as a whistle, is made by using local mountain mud through processes including refining and kneading, and by making blow holes, and then later calcinated and colored.