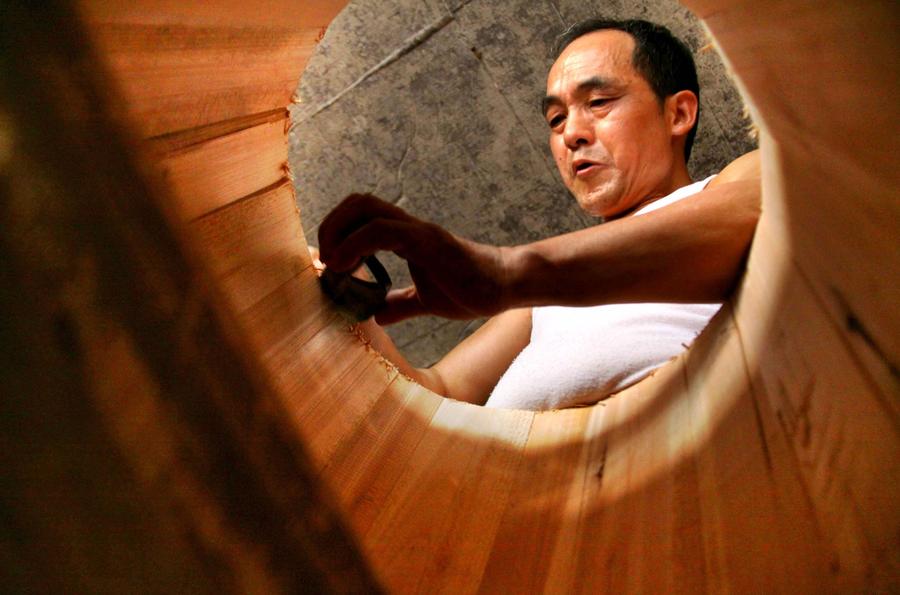 Yu Xinghua makes a round wooden container by using traditional handicraft skills at a workshop in Shuangxi, Jiang'an county, Jiangxi province, July 7, 2014. [Photo/Xinhua]
The cooper Yu Xinghua, 65, has witnessed booms and slumps with traditional handicrafts since he first started making wooden barrels at the age of 18 in Shuangxi, Jiangxi province.
A hooper, or cooper, is a traditional craftsman who specializes in making round wooden containers and utensils.
Generally, a cooper joins scattered pieces of planks so as to make wooden barrels in different shapes and sizes through the process of chopping, cutting, sawing, shoveling and connecting by using tools such as an axe, saw, planer, chisel, froe and drill. The basin, bucket and mud bucket in earlier times were all made through this traditional process.
After the dominant period of handicrafts and the production of the wooden utensils in the 1970's and 1980's, such handmade processes began to decline and gradually faded away in the 1990's. The rapid development and popularity of materials like plastic, iron and stainless steel, and also the widespread use of modern machines used to make wooden utensils contributed to the slow disintegration of traditional production methods.