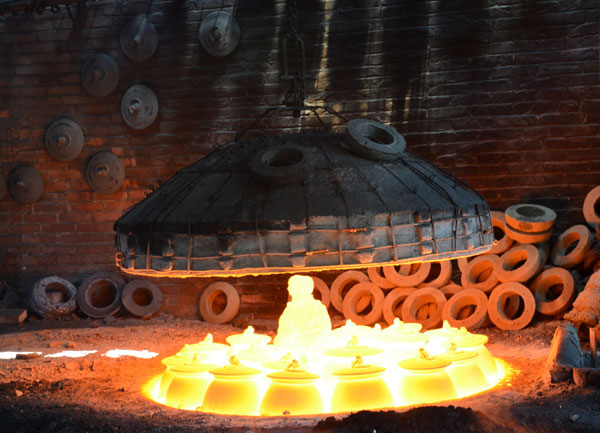 Pottery pieces are revealed after the 1,500 C firing process in a traditional kiln about 2 meters in diameter in Yingjing county, Sichuan province, on April 12. In the center is a new statue made by local potter Zeng Qinghong. [Photo by Peng Chao/China Daily]
Two dozen glowing pottery pieces revealed as a bowl-like structure is opened in a dim room. Zeng Qinghong gazes at a statue in the center of the pottery pieces, a smile on his face.
The statue is Zeng's latest artwork, just fired in a traditional kiln, about 2 meters in diameter, used to make black pottery in Yingjing county, Sichuan province.
With a history of more than 2,000 years of producing pottery, Yingjing county is as famous for its black pottery as the city of Yixing in Jiangsu province is for its purple clay pottery.
The pottery, which usually dries to a silver-gray, is made from a unique clay found in the county combined with local coal ash. The pieces are a muted black before being fired in 1,500-degree heat in the specially designed kiln, which is how they get their name.
Such black pottery is famous for its ability to keep food fresh.
Zeng, the eighth generation of potters to work in his family business, said he is finding ways to better carry forward the family craft, especially after a magnitude-7.0 earthquake in April 2013, whose epicenter in Lushan was only 40 kilometers away.
The quake cracked the walls of Zeng's factory and damaged more than a thousand pieces of pottery.
"I have changed my focus to making artworks instead of pots and teapots since the beginning of this year," Zeng said. His factory has 20 employees and produces about 100,000 pieces a year, most of them simple soup pots.
However, Zeng found that a piece of art could be worth thousands of yuan while a pot, though made from the same materials and using the same techniques, only sells for about 50 yuan ($8).
An art teacher from Beijing once came to Zeng's factory, and the two spent 20 days making a "Jiulong Pot", a pot with nine Chinese dragons pictured on its surface. A later visitor from Chengdu saw the pot and insisted on buying it.