Finding your 'cue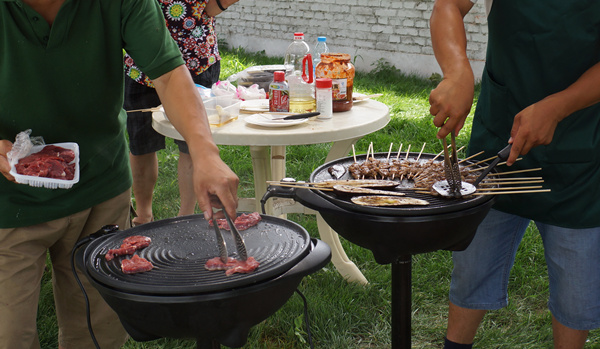 Besides charcoal grill stands, Aka Farm in Beijing also offers electric stands for visitors who want to barbecue. [Photo by Ye Jun/China Daily]
Although open-air barbecue grilling is banned in Beijing, it is still possible to try some very tasty barbecue foods in restaurants, or even prepare it at a distant farm in the suburbs.
In & Out, Beijing's popular Yunnan restaurant, offers Dai ethnic-style barbecue items, which are prepared with smokeless charcoal inside the restaurant.
The Dai people in Yunnan province are famous for their barbecue. Grilled grass carp with lemongrass is a signature dish: Lemongrass, leek, Thai chili and salt are tucked into the cavity of the fish, which is then bound with grass thread and grilled. When served, the fish is tender and aromatic.
Another Dai-style grill option is chicken feet, which has both tender meat and a lot of taste. There are also kebabs with green bell peppers, potatoes, zucchini slices and mushrooms, all healthy and delicious.
In & Out is cooperating with Jing-A Brewing Co to offer three craft beers for the summer. The Beijing brewery operated by Alex Acker from the United States and Kristian Li from Canada provides Flying Fist IPA, a full-bodied and very fruity beer made with a double dose of Citra and Simcoe hops. The Worker's Pale Ale is a full-flavored American pale ale that tastes light and refreshing. Blushing Geisha Koji Red Ale is made of koji sake rice and has a pinkish color.
Meanwhile, some restaurants at hotels offer a really nice barbecue with their buffets, in a beautiful ambiance.
Garden Court, St. Regis Beijing's first-floor international buffet restaurant, offers grilled fare in its lovely garden on Thursday, Friday and Saturday evenings. Highlights are New Zealand beefsteak, imported fresh seafood such as tiger prawns, and in-season vegetables. These items are included in the indoor buffet price of 368 yuan ($59) per head, allowing access to both.
DoubleTree at Hilton Beijing offers an outdoor barbecue pool party in the outside garden on its third floor. Parents can bring their children to the party every Sunday from noon to 4 pm, which has a nice children's recreational area.
The menu is buffet plus barbecue, offering meats, seafood, charcoal-grilled burgers, salads and desserts.
The whole package costs 228 yuan net per head, including food, beverage and access to a pool next to the garden. Free-flowing wine and beer is an extra 58 yuan. Both hotels' barbecue parties run until the end of September.
Finally, if you want to do it yourself, visit Aka Farm in Changping district by the North Sixth Ring Road.