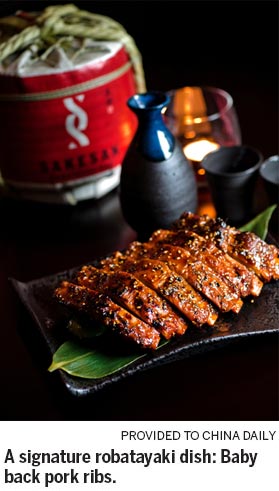 More Chinese are now familiar with Japanese food. If previously Chinese only knew sashimi or sushi, many are now also fans of teriyaki and robatayaki.
Teriyaki is a cooking technique in which food is broiled or grilled in sweet soy sauce.
Robatayaki is Japanese barbecue which the chef cooks in front of customers before serving them. Traditionally, chefs sit on a deck, surrounded by various ingredients. They cook as customers place their orders.
The culinary experience is more fun and allows customers to interact with the chefs.
In Shanghai, Japanese restaurants are at almost every corner.
Recently, there is a new kid on the block - a restaurant named Sakesan at Taikang Terrace in Shanghai, specializing in robatayaki.
It is located on Middle Jianguo Road, overlooking Tianzifang, a neighborhood of heritage houses that have been transformed into trendy boutiques and modern restaurants. The operator of the restaurant is Hong Kong's leading food and beverage group, Cafe Deco Group.
The restaurant bears a contemporary design, featuring natural woods and granite, decorated with modern lights and stack sake barrels.
The set-up appears to contradict the traditional look of most robatayaki restaurants. Except for the back area of the diner where there is an open kitchen for customers to observe chefs strutting their stuff, the rest of the restaurant has two- or four-seat tables.
The signature robatayaki dishes in the restaurant are black cod in miso and baby back pork ribs. Customers can also choose from a variety of main courses such as robata skewers, rice hotpots, gyoza, tempura and various Japanese noodles.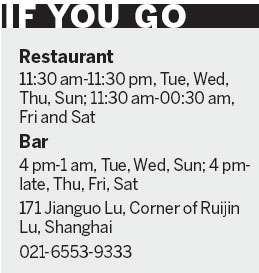 The maximum capacity of the dining area is about 55 people at any one time.
Sakesan Shanghai has also built a standalone bar adjacent to the dining area for those who fancy an after-dinner drink.
The seductive lounge, painted in charcoal and pink, is decorated with Japanese modern art paintings. Customers can chose from a variety of Japanese sake and shochu-based cocktails made with innovative Japanese ingredients.
They include the Sakesan - a zesty shochu concoction with Cointreau, an orange-flavored liqueur from France; cranberry and yuzu juice, a Japanese citrus fruit.
For those who do not like strong alcohol, the bar has a series of light selections, such as a sake cocktail with strawberry juice.
One of the best sellers is a cocktail named Wasabitini, says Lu Wei, bar and assistant manager of the restaurant. It is a concoction of fresh wasabi with sake, fresh pineapple, yuzu sake and honey sake.
The bar also offers more than 20 varieties of top-range sake and shochu, as well as a wide selection of Japanese whiskies.
lixinzhu@chinadaily.com.cn