Barbecue or bust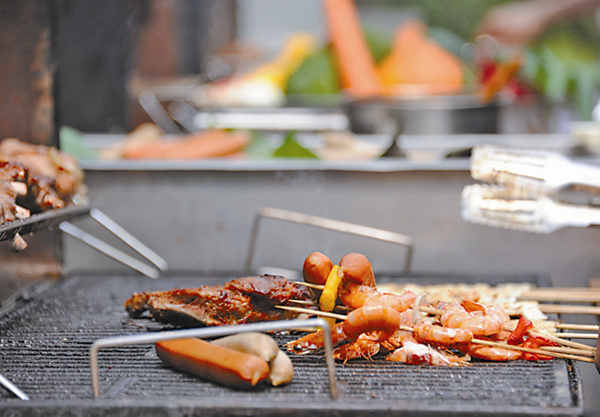 Meat barbecued over charcoal is believed to taste better than meat grilled by gas or electricity. Photo provided to China Daily
As summer heats up, restaurants in the capital struggle with the ban on outdoor grilling. Ye Jun reports.
A cold beer with freshly prepared barbecue is ideal for summer. But this year, it will be harder for people in Beijing to find an open-air kebab stand than in the past. The municipal government has banned open-air BBQ since 2000, but this year the city's management has strengthened enforcement as Beijing's charcoal burning is believed to contribute heavily to the rise in PM2.5 air pollution.
The ban states that foods served outdoors should be prepared indoors, with a fine for violators up to 20,000 yuan ($3,220).
According to the local Beijing Times, the capital's Dongcheng district city management has cracked down on open-air barbecue stands without licenses. City management officials said such stands not only let off a large amount of smoke, but also create a lot of rubbish - and cold dishes prepared in open air pose potential health risks.
City management officials closed down six grilling stands and confiscated four ovens in the district, according to the report. But they were confronted with diners who didn't understand and were unwilling to leave.
The popular Yunnan eatery In & Out has just started to offer a Dai ethnic-style barbecue for the summer, with beer from local micro-brewery Jing-A.
"An outdoor barbecue will help give a really good atmosphere, but it is true that it causes quite a bit of pollution and might disturb the neighborhood," says Li Gang, owner of In & Out.
Li says that munching on big pieces of meat and drinking without a shirt on are temptations that many men in Beijing find hard to resist in summer. But because of the regulation, they now roast their kebabs indoors with smokeless charcoal.
He says some people are still setting up kebab stands outdoors, in spite of the ban.
One reason people prefer charcoal grilling is the good taste, according to Wang Bin, North China general manager of Powealth Int'l Enterprise, which owns Quan Jin Cheng, a Korean-style barbecue chain restaurant.