Brewery beer among best-known brands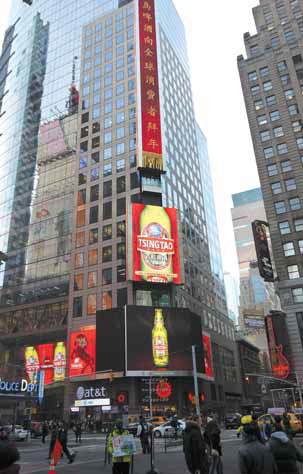 Tsingtao Brewery posts a huge advertisement in Times Square in New York to celebrate the traditional Chinese Spring Festival of this year. 
Tsingtao is a beer but also a lifestyle for the people of Qingdao.
The brew is deeply rooted in the local culture and has become a symbol of the city.
Locals love it so much that they run home after buying fresh takeaway beer in polythene bags from street vendor's kegs.
Founded in 1903 by German and British settlers of the seaside city, Tsingtao beer is now top Chinese brand known around the world.
The drink represents the hospitality of local residents, which they call Tsingtaoism.
Hollywood blockbuster Mummy: The Tomb of the Dragon Emperor used Tsingtao in a scene that depicted the streets of old Shanghai and the brand's cheerleaders entertained audiences at NBA arenas.
Tsingtao's net profit increased to 585.7 million yuan ($93.6 million) in the first quarter of 2014, up 17.4 percent year-on-year, according to the company's recent results statement.
The company's global sales volume reached 8,700,000 kiloliters in 2013. According to the authoritative beer industry compilation the Barth Report, Tsingtao is the sixth largest brewery worldwide in terms of production.
As of the end of 2013, Tsingtao Brewery owned 54 brewing subsidiaries and 11 jointly run breweries in 20 provinces, municipalities and regions of China.