Right as Rhine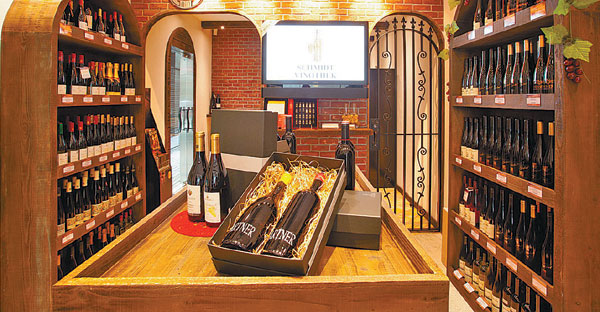 Schmidt Vinothek hopes that its quality selection of beverages will help change China's perception of wine from German-speaking countries. Provided by Insight Marketing to China Daily
I have to admit: Aside from riesling, which is one of my favorite varietals to drink, I think of beer when I want to enjoy a beverage from Germany. My prejudice is not uncommon. Patrick Festl, business development manager for Schmidt Vinothek, believes that it was the influx of cheap wines such as Black Tower that gave German vintages a bad name in the 1970s and '80s.
Festl, along with Jackie Chan, president of Schmidt Marketing (Asia), is hoping to change that perception by bringing in a remarkable collection of sparkling, red, white and dessert wines to the Hong Kong market.
At a recent wine pairing lunch held at Hoi Yat Heen in Harbour Plaza North Point, the best of the best vintages were showcased along with dishes that would accompany them.
Although the fusion dishes themselves were somewhat hit and miss, the selections by Schmidt Vinothek's chief sommelier Kevin Li were worthy of independent accolades.
We started off with Schloss Proschwitz 2009 Riseling Brut Sekt, Sachsen, Germany (HK$385, $50), a sparkling white made from 100-percent riesling using traditional methods on Saxon palace lands. The red-granite soil where the grapes were grown gives it a bright mineral finish, with refreshing citrus notes on the nose that makes it a good sipping aperitif.
Next was Stigler 2009 Riesling Trocken F36 Ihringen Winklerberg, VDP Baden, Germany (HK$510), a light and citrusy white produced by the same family since 1881. Baden, being the lowest wine region in Germany, features volcanic soil that gives the wine a strong minerality. Its fruity nose is balanced by its low sugar content and goes well with seafood as it sets off the delicate sweetness of fish.
Another excellent seafood pairing was pan-fried tiger prawn with Skoff Original 2010 Sauvignon Blanc "Royal", Sudsteiermark, Austria (HK$500).
Made by the fifth generation of winemakers from Skoff in southern Austria, the father and son's efforts result in a wine that shows its limestone and sandstone origins. A popular wine with the Norwegian and Danish royal families, its notes of mango, melon, papaya and vanilla are mellowed from French oak and go well with a saucy dish.
One of the top 10 red-wine producing estates in Germany is run by the family's two daughters, with pinot noir being its specialty. The Burgundy style Meyer-Nakel 2011 Spatburgunder S Trocken VDP Ahr, Germany (HK$650) was aged for 10 months in a 50-50 combination of new and old oak, yielding a full-bodied deep red wine with hints of blackberry, chocolate and exotic spices.