Brewery beer among best-known brands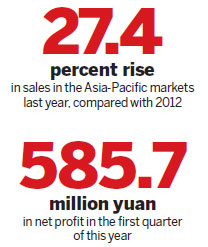 Last year marked the 20th anniversary of Tsingtao Brewery becoming a listed company. Its stock prices hit a record high both in China A-Shares and H-Shares in 2013, according to the company's report.
Tsingtao Brewery is taking the lead in elevating the brand recognition of the "made in China" beer on the international stage.
Jean-Claude Larreche, professor of graduate business school INSEAD, in France, said "made in China" brands can be associated with cheap products.
However more and more Chinese brands, including Air China, Lenovo, and Tsingtao, are becoming more accepted for their quality in the global market.
Tsingtao Brewery, valued at nearly 80.585 billion yuan, was ranked first among Chinese beer brands, according to the list of the Top 500 Most Valuable Chinese Brands 2013.
As the earliest Chinese brand to enter the international market, Tsingtao Brewery has topped the list of export volume among Chinese breweries.
Tsingtao beer is sold in more than 85 countries and regions, including the United States, Canada, Britain, France, Germany, Italy, Australia, South Korea and Japan.
In 2013, Tsingtao's sales volume continued to rise in the mainstream market channels. In Britain this included a 40.1 percent growth at Tesco and 44.7 percent growth at Waitrose.
The beer also saw 20 percent year-on-year growth in North Europe. There was a sharp increase in emerging markets as well. Sales jumped by a whopping 95 percent in Africa and 76 percent in East Europe.
Tsingtao's combined sales volume in the Asia-Pacific markets grew by 27.4 percent. Sales surged by 65 percent in South Korea and the beer had 10 percent year-on-year growth in Hong Kong, where it has become the second largest brand. Its market share in Macao also exceeded 60 percent.
According to the 2011 survey results of Chinese Companies in the Eyes of Foreigners, published by Chinese magazine Global Entrepreneur, Tsingtao Brewery topped the list of products used most in the US, Britain, Australia, Japan and South Korea.