Relaxed Italian fare in bustling Wan Chai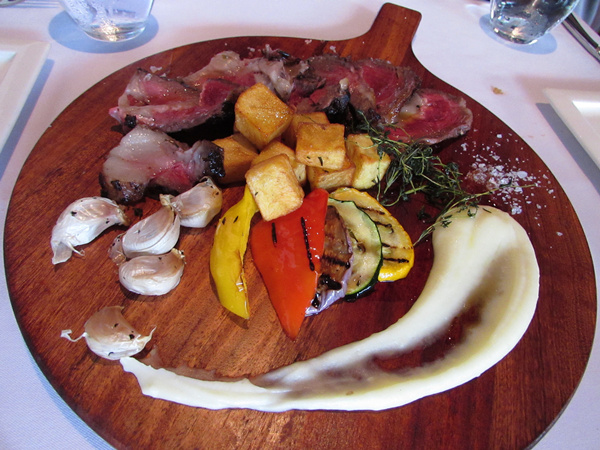 Grilled Wagyu rib-eye steak is a signature dish at Opera House Restaurant and Bistro in Hong Kong. [Photo by Donna Mah/For China Daily]
In the last few years, we have seen dining options in Wan Chai increase - not only in the types of food the restaurants offer, but also restaurants at different price points.
It once was difficult to find venues that offered comfortable seating, decent food and mid-range prices in this Hong Kong neighborhood. It was easy to find a cha chaan teng, but when you wanted to take a client out for lunch, your options were limited.
Opera House Restaurant and Bistro on Queen's Road East, opened a few months ago and came as a bit of a surprise.
It is spacious and covers two floors. A key concept here is the "Made in Italy" tag, with elegant furnishings, cutlery and interior design. Finally, eating here at lunchtime was relaxing - unusual in Wan Chai during peak times.
Alberto Alboreggia is the executive chef at Opera House and hails from Como. He has worked a number of years in Beijing and Shanghai, with his restaurant, Tavola, being a popular haunt for the Italian Olympic team during the 2008 Olympics. This is Alboreggia's first foray into Hong Kong.
The Neapolitan-style pizza served here is made with Caputo "00" flour and misted with Italian mineral water to make the dough. The dough rises for at least 36 hours before it is shaped into pizza pies or calzones. The crusts were crisp, tender, and light, with just the right amount of chewiness. The calzone was stuffed with fresh buffalo mozzarella cheese, sweet basil, San Marzano tomato paste, ricotta, mushrooms and ham. It's perfect for sharing or indulging on your own.
For some delicious carbs, the schiaffoni with asparagus sauce, cherry tomato and taggiasca olives (HK$138 or $18) was cooked to al dente and showcased the sweetness of the cherry tomatoes and the saltiness of the black olives. The green asparagus sauce added a bit of creaminess to the dish.
The Iberico pork cheek risotto, pan-fried goose liver, and blueberry sauce (HK$188) is prepared with Iberico pork cheeks that are marinated with rosemary and red wine for around 16 hours before being slow-cooked at 84 C. The risotto absorbed all the intense flavors from the meat and is rich with flavor.
For people craving red meat, top-quality Australian Wagyu rib-eye steak is grilled, sliced and served with roasted or mashed potatoes, or grilled vegetables. Seasoned only with a light sprinkling of sea salt, the meaty flavor of the beef really comes though. The dish is meant to be shared by two or three people.
If you can't decide what to have for dessert, try the chef's selection of six desserts for HK$188, served in individual little pots. It's probably best to share with others though, no matter how much you love sweets.
If you go:
Opera House Restaurant and Bistro
109-111 Queen's Road East, Wan Chai, Hong Kong. 852-2520-6677/8.
Average cost per head: HK$300-600 ($40-$80)
Recommended: Pan-fried Hokkaido Sea Scallops, Schiaffoni, Iberico Pork Cheek Risotto, Grilled Wagyu Rib-eye, Calzone, Chef's Selection of Desserts.