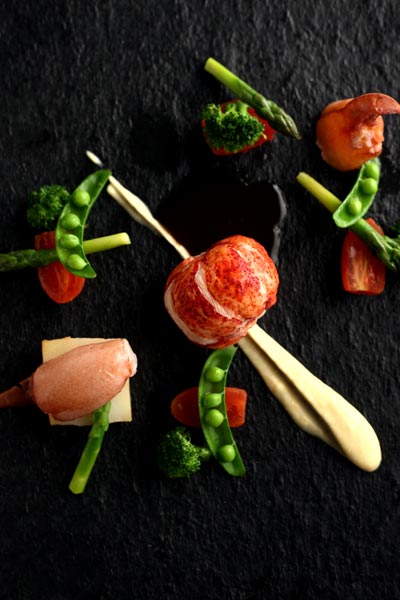 Chef Guven's Butter-Poached Boston Lobster, part of Grill 79's new and innovative winter menu.
Grill 79, China World Summit Wing's award-winning international restaurant, could very easily rely on its epic location - almost half a kilometer in the sky, atop Beijing's most imposing tower - to entice diners. Happily for the capital's bon vivants, however, the recently-launched winter menu created by new Chef de Cuisine Guven Uyanik offers a glorious selection of culinary classics (often with a delicious twist) that are just as iconic as the view.
Chef Guven's menu comprises seven appetizers, four soups, three risotto and pasta dishes, six main courses and five desserts. Though all dishes are designed to be works of art in their own right, the number one priority remains the quality of ingredients. Guided by this philosophy of cooking without boundaries, Grill 79 has employed some of the very best domestic and international produce in designing (and redesigning, Guvan-style) its winter collection.
Every dish is a carefully considered masterwork of taste and texture, though there are a few standout options. The Caesar Salad is a personal favorite. Hidden beneath a crispy disc of baked parmesan, Chef Guven's spin on this classic also includes a generous sprinkling of pata negra and brioche croutons. Once broken, the parmesan shards add a welcome crunch and tangy kick that actually improve upon the beloved original.
Chef Guven's Turkish origins come into play with the Great Istanbul Classic, which sees premium veal cheek (slow-cooked for 26 hours to achieve maximum tenderness) served alongside a small brass pan of hearty aubergine. This is just the tip of the iceberg for meat lovers, as the menu lists a total of twelve high-end steak dishes - including the rare and highly-praised David Blackmore Wagyu beef. Seafood lovers are in for a treat, too, with sumptuous options including Butter-Poached Boston Lobster and baked silver cod. For those who enjoy a spot of liquid refreshment, the sommelier is always on hand to pair any dish with a suitable wine from Grill 79's world-class collection.
Dessert is another master-class in the use of superior ingredients, with the Fresh Fruit Lavosh - combining a crispy wafer and tropical fruit with home-made vanilla ice-cream and a swirl of gloopy caramel sauce - topping the list of guilty pleasures.
Grill 79's new and innovative winter menu is available for both lunch and dinner. To book a table at this exclusive and exciting eatery in the sky, call (86 10) 8571 6459.