Bon appetit, Shanghai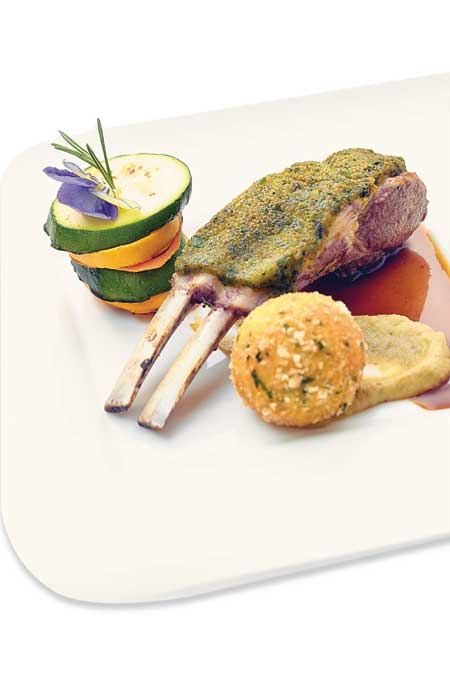 PRETTY COLORFUL PLATES: Paris Rouge's lamb shank, stuffed vegetables with pork and stuffed squid. [Photo provided to Shanghai star]
The owners of Paris Rouge intend to wave the red, white and blue flag over the Shanghai culinary scene, and their first shot off the cannon is a delightful cafe that's painting a section of Shanghai pretty red. Judith Huang goes to lunch.
Walk through the double glass doors of Paris Rouge, and you immediately feel transported to the French capital, as waiters greet you with a smile, a flourish of a napkin and cheerful cries of "Bonjour".
The airy cafe, tucked behind traditional French topiary and decorated with tall pots of fresh flowers, is light-filled and pleasant. Red and gold furnishings, mirrored surfaces and soft leather sofas give it a welcoming feel, striking the balance just right between comfort and formality.
The set menu, offering three choices per course, contains enough variety without being too overwhelming. Two courses can be had for 168 yuan, or indulge in an appetizer, main course and dessert for 218 yuan.
For the appetizer, we had the stuffed squid, which came with a drizzle of carrot reduction, green pesto and a sprinkling of fresh sprouts, plated as pretty as a picture. The squid was cooked to just the right degree, neither undercooked nor rubbery, and looked nearly translucent. The three rings were stuffed with creamy diced zucchini, which complemented the crunch of the squid nicely.
Next came the lamb shank, cooked seven hours, with crushed tomatoes and grilled eggplant. The lamb was shredded and arranged as a patty, with a thin layer of tomato and eggplant sitting on top, so that each mouthful mixed the flavourful juices of the crushed vegetables with the succulent strands of meat.
My dining companion had the stuffed vegetables with pork, which featured two grilled peppers and a yellow zucchini on a bed of risotto and a generous dash of gooseberry pesto.