Peking duck restaurant group celebrates 150th anniversary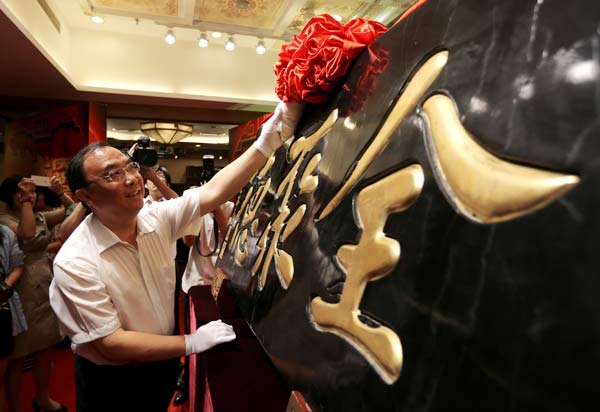 Quan Ju De Group's general manager Xing Ying wipes dust from a company plaque, to pay respect to tradition at the group's 150th anniversary. Photos by Jiang Dong/China Daily
Quan Ju De Peking Roast Duck Restaurant celebrated the 150th anniversary of its founding on July 2 in its Qianmen branch, the oldest of its restaurants.
Quan Ju De Group's general manager Xing Ying wiped dust from a huge wooden plaque, to symbolize inheriting and renewing the historic brand name. Retired former general manager Yang Dengyan and roast duck chef Zheng Zhiqiang cut pieces from the restaurant group's 196 millionth roast duck at the ceremony.
Established on the sixth day of the sixth lunar month in 1864, the first Quan Ju De, which was then located on Qianmen Dajie, started an extraordinary development. It has grown from an anonymous Peking roast duck shop into a group with nearly 100 member enterprises. It is also one of few traditional restaurant enterprises in China to be listed on China's stock market.
The company's management concept is based on morality and traditional Chinese culture.
Just five years ago, in 2009, the company celebrated roasting its 148 millionth duck at its 145th anniversary. In the past five years, the group has served 48 million more ducks, to 40 million customers.
To thank customers for their support of the restaurant, Quan Ju De will hold a "common people's banquet" food week from July 2 through 8. During the event, there will be a 12-percent discount on all ducks served inside the branch restaurants. There will also be discounts given by the company's online stores.
A new commemoration card has been designed to mark the anniversary. Since 2004, Quan Ju De restaurants have been giving commemoration cards to diners, marking the number of ducks roasted and doubling as a ticket for a lucky draw to be held at a later date.
On July 6, the first lucky draw for the cards issued will be held. Customers can check the results on the company's official website.
The new commemoration card bears an official enterprise-tailored postage stamp, created in cooperation with China Post. The symbol on the stamp is Quan Ju De's plaque. It is the first ever company in China to issue its own postage stamp.
The commemoration card also bears an electronic bar code, which, when scanned with a mobile phone, can trace the origin of the duck you were served.