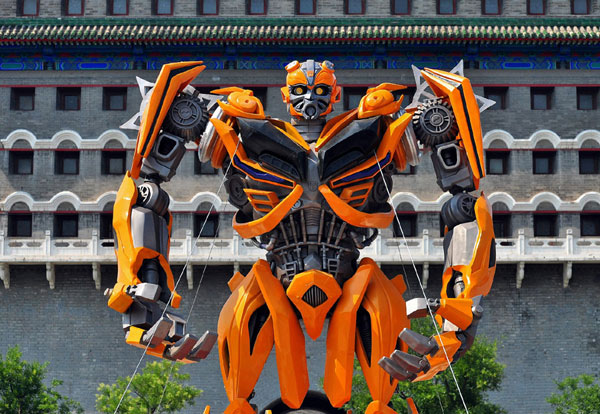 The Auto-Bots stand stalwart against the forces of evil on June 24, 2014, at a popular tourist spot on Qianmen Street in Beijing. The Auto-Bots attracted a wave of attention and pictures from Transformer fans and visiting tourists. [Photo/CRI]
The Autobots have not only defeated the Decepticons, but also triumphed over the Na'vis in China to become the top-grossing movie in history.
By Monday noon, "Transformers: Age of Extinction" had raked in more than 1.38 billion yuan ($US 222 million) in China, bypassing "Avatar's" 1.37 billion yuan record set in 2010, according to movie website Mtime.com. The Paramount blockbuster has attracted more than 32 million viewers.
Hopes are still high for ticket sales as the movie was only released 11 days ago.
Seen from numbers alone, the fourth installment of the franchise has eclipsed James Cameron's "Avatar", but four years ago China had only 4,700 movie screens, less than a quarter of today's number.
Compared with "Avatar," which received unanimous good reviews from moviegoers, "Transformers 4" drew mixed opinions, with critics complaining about a lack of plot and characters. For Chinese movie fans, it has too many product placements.
Developed by the Hasbro toy company, Transformers have a huge fan base in China. The first three "Transformers" achieved good box office results. "Transformers: Dark of the Moon" earned some 1 billion yuan in 2011.