Cantonese chef finds a new path in Ningxia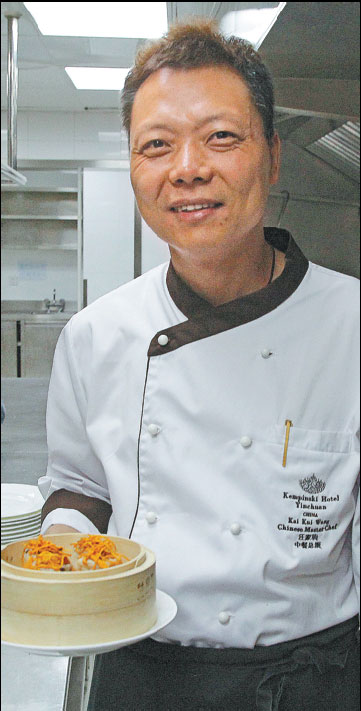 Master chef Wong Kai-kui at his kitchen in Yinchuan's Kempinski hotel. Wang Huazhong / China Daily
For more than 30 years in his profession as a chef of Cantonese cuisine, Wong Kai-kui, 50, has adhered to a "rooted doctrine" that pork soup is the essence, adding flavor to most Canton dishes.
He uses pig bones to stew his soup stock to cook with abalone and sea cucumber. He roasts pork and wraps pig meat in thin pastries to steam for dim sum.
Yet, the kind of meat and even the name of the animal have become a taboo, not to mention using pork as an ingredient, since he started afresh four years ago in the Ningxia Hui autonomous region, inhabited by the Muslim Hui ethnic group.
"I looked for information online and studied locals' habits. I thought I was prepared for the challenge," Wong says of his arrival at Yinchuan, the region's capital city, on a windy day. "That's what I thought."
He encountered restrictions almost everywhere. "I found there are more requirements than I had studied," says Wong, currently the Chinese master chef at Yinchuan's Kempinski hotel, a five-star German luxury chain.
Finding acceptable substitutes was also a must when it came to alcohol-enhanced flavorings, such as white vinegar, that Muslims usually avoid.
All ingredients had to be halal, he says, meaning beef, lamb and chicken are available to cook only after following Islamic laws on killing animals for their meat. Strict rules of cleanliness and preparation must be adhered to.